Sri Lanka Trek 2016
Information
Event type

Overseas

Date

–


Minimum fundraising

£3,300

Registration fee

£250

Minimum age

You must be 18 years old to register for this event.

Contact

Location

Sri Lanka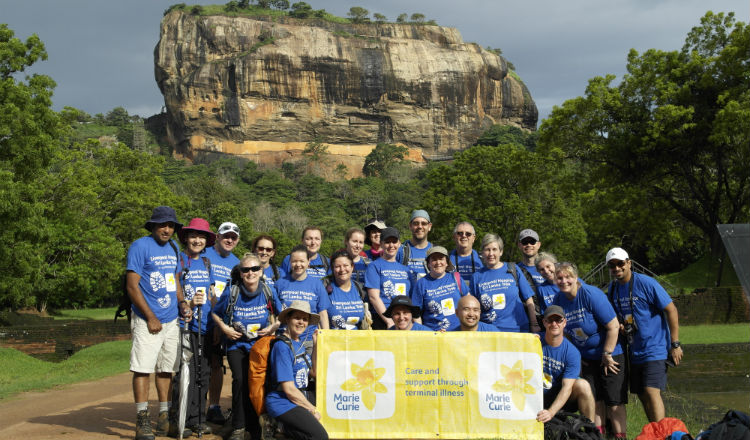 Sri Lanka may be a tiny country but it is full of natural wonders, which more than make up for its size. This nine-day trip includes five days of trekking, during which you will experience the most breathtaking views imaginable.
On this experience of a lifetime we will take you to the most stunning highlights of this incredible country through beautiful jungle, forest trails, small villages and ancient cities.
Sorry, online registration is no longer available for this event. Please contact us on events@mariecurie.org.uk or call us on 0845 052 4184.
Why trek with Marie Curie?
By taking on this once in a lifetime challenge for Marie Curie you will help us care for more people living with a terminal illness. When you join us you will benefit from:
Training guides, hints and tips to get you ready for the big challenge
Lots of fundraising ideas in your welcome pack. If you're keen to get started with your fundraising right away, check out some of these ideas.
Access to a local community fundraiser who will advise you and help you smash your target
Two Marie Curie representatives who will trek the entire journey, join you on a training day and organise a post-trek reunion
A brightly coloured Marie Curie Overseas T-Shirt
Access to a Facebook Group just for your trek, so you can chat with your fellow trekkers beforehand
A 15% discount at Cotswold Outdoors
Itinerary
Here's what you'll be doing on the trek:
Day 1
London to Colombo
We depart London Gatwick for our flight to Colombo.
Day 2
Arrive in Colombo and transfer to the hotel located in Habarana
On arrival we will be met and transferred to the group hotel in Habarana. The drive to Habarana will give us a great first impression of Sri Lanka as we take a scenic drive through villages, rubber plantations and paddy fields. One we are checked into our hotel, which will be our base for two nights, we will join our guide for a trip briefing in readiness for the first day of the trek. In the evening we will have dinner and enjoy our first taste of Sri Lankan cuisine.
Day 3
Commence trek - Minneriya National Park, approx. 6 hours walking
Our challenge begins today as we commence our trek in the jungle just outside the 8890 hectares of Minneriya National Park. Trekking through local farmlands and passing man-made lakes, we will start to spot the abundance of wild birds that settle here. We will stop for lunch before entering the Minneriya National Park, where wild Elephants, Spotted Deer and Leopards all call this area home.The terrain you will walk through will be a mix of shrub land and evergreen forests, covered with beautiful satinwood, palu (rosewood) and weera trees. Minneriya forms part of the elephant corridor that joins up with Kaudulla and Wasgomuwa national parks. During the dry season this Park becomes known as the "Gathering" where large numbers of Elephants gather by the watering holes in search of water. If we are lucky we will be able to see these majestic creatures.
Day 4
Trek to Sigiriya, approx. 6 hours walking
Today we head towards the impressive Sigriya rock fortress, one of Sri Lanka's favourite attractions and a World Heritage Site. To begin, we trek through jungles and along forest trails in wild Elephant territory. We should arrive at the complex around lunch time.
Sigiriya is said to have been built by the parricidal King Kassapa I (477–95). The structure is made of bricks and plaster, and lies on a steep slope. At the summit stands the granite peak, which is approximately 180m high and is often referred to as the Lion's Rock. It dominates the jungle from all sides and as we trek today we will get great views as we approach it. We have the afternoon to explore the galleries and staircases, which flow from the mouth of the gigantic lion before we ascend the rock summit. A memorable way to end the second day of the challenge.
Day 5
Trek to Dambulla, approx. 6 hours walking
The route today takes us through a variety of landscapes as we trek though rich wilderness. We are heading towards Dambulla and the famous cave temple complex. There are more than 80 documented caves in the surrounding area, however the major attractions are spread over 5 caves filled with statues and paintings relating to the Lord Buddha. The rock of Dambulla is the centre of a Buddhist cave-temple and from the top we get great views back across to Sigirya. After plenty of time here we make our way to our hotel in Dambulla for a restful evening.
Day 6
Kandy, approx. 6 hours walking
Kandy, Sri Lanka's hill capital and stronghold of the Sinhala Kings is the country's most beautiful town. It is 488 metres above sea level and next to Colombo is Sri Lanka's most visited place. The focal point of the town is, without doubt, the golden roofed Dalada Maligawa where the Sacred Tooth Relic of the Buddha is enshrined. This morning we trek through rural Sri Lanka, rich with tea and rubber plantations, wooded forests and rivers. As the roads around Kandy can be very busy, we meet our vehicle and driver just before Kandy and transfer to the hotel. The rest of the afternoon is free time to explore Kandy before meeting for dinner. In the evening we will be treated to a Cultural Performance, giving us even further insight into the history and heritage of this fascinating country.
Day 7
Sri Pada (Adam's Peak)
Leaving Kandy, we transfer by private vehicle to the town of Dalhouise where we check into our guesthouse. Here we will prepare for our very early morning summit of Adams Peak the next morning. It is believed this Peak is the place where Adam first set foot on earth after being cast out of heaven.
Day 8
Sri Pada (Adam's Peak) 2412mts approx. 6 hours walking - Negombo
Leaving very early (around midnight) we will begin the ascent of Adams Peak, which stands at 2412 meters. Using head torches to guide the way, we should reach the summit by sunrise for an amazing and unforgettable view out across Sri Lanka. We begin by trekking past a large statue of Buddha before crossing a bridge. The trail then ascends past a tea estate and continues up. The trail has a mix of steps and steep trails; although not a technical climb, the stairs are tiring and close together. Adam's Peak is considered one of the most striking natural landmarks and has accumulated a mass of legends over time. Our guide will be able to entertain us with these on the summit. Once we are back at the guest house we will have a hot breakfast and rest before transferring to Negombo for free time and a celebration dinner.
Day 9
Free time before your late night transfer to the airport for your return flight
After breakfast you will check out of the hotel and leave your bags with concierge. As you have completed your challenge you will have a free day to do as you please! You could choose to either sit back and relax by the pool or beach or take another trip into Colombo for those last minute souvenirs.
World Expeditions staff will transfer you back to the airport in the late evening (approx. 11.30 pm on 27 Nov) for your flight from Colombo in the early hours of 28 November 2016.
Day 10
Arrive London Gatwick
This itinerary is subject to change with any change in Community regulations as well as Governmental changes and natural circumstances beyond our control.
Frequently asked questions
Do I need to sign up online?
Signing up online is quick and easy to do and it saves us vital money to put towards supporting people living with a terminal illness. The registration form is also available to download and print. If you are not able to sign up right now, why not save this page to your favourites so you can sign up online later?
Who can take part?
You must be 18 years old or over to take part. The group size will be approximately 30-35 with people of all ages from all backgrounds. The majority will be on their own, but some will go with friends, partners or relatives.
How fit do I have to be?
This is a strenuous challenge and you will need to train hard to succeed. All our challenges are designed to suit people who are fit and have trained to take part – the fitter you are the more you will enjoy the adventure.
Will I need specialist kit?
We will send you a recommended packing list in your welcome pack which will detail any specialist equipment you may need.
What is not included in the package?
Registration fee
Recommended vaccinations
Tips and gratuities
Travel insurance
Personal spending money
Single room upgrade
What food and drink will there be?
All meals are provided on the challenge and will include lots of carbohydrates such as pasta and potatoes along with cereals, bread, fresh fruit, vegetables and eggs, plus some meat. There will be vegetarian options at every meal. Feel free to bring a few of your favourite snacks too. Please let us know in advance of any special dietary requirements.
What about vaccinations?
As a guide, typhoid, diphtheria, hepatitis A and B vaccinations are advisable and tetanus should be up to date. Yellow fever vaccination certificate required from travellers over 1 year of age coming from areas with risk of yellow fever transmission I.e. If they are travelling from the UK they just need to be up to date on boosters.
We recommend you seek professional medical advice from your GP regarding travel vaccines.
How will I be supported?
Beforehand: You will be sent a fundraising pack with great tips on how to meet your sponsorship target. We will be in touch regularly and will organise a briefing day where you'll meet other participants and hear more about the challenge.
During the trip: Your group will be accompanied by a qualified medic and trek leader, as well as a Marie Curie representative. Local guides will escort the group along the route. Your luggage is transported by vehicle to each night's accommodation.
Can I cover the cost of the trip myself?
We ask you to raise a minimum of £3,300. A minimum of £2,100* will go directly to Marie Curie, as well as anything you raise over the minimum sponsorship. If you would like to pay for the trip yourself please contact us on 0845 052 4184 for further information.
*Based on minimum participant numbers.
What will the weather be like?
Sri Lanka may be visited all year round although some areas are affected by the two different yearly monsoons that it experiences. In Colombo and low-lying areas the temperatures can be high, but expect more manageable temperatures in the highlands and it may get chilly in the evenings.
What's the accommodation like?
All nights are in comfortable hotels and lodges on a twin/ triple sharing, single sex basis.
Passports and visas
Every British passport holder must obtain an Electronic Travel Authorisation (ETA) before departing the UK. ETA is an official authorisation for a Short Visit to Sri Lanka and is issued electronically. You can no longer get a visa on arrival. Passports should have at least one blank page and will need to be valid for at least six months from the date of departure. An updated instruction sheet will be sent to you within 4 months of departure.
Can I extend my stay?
Anyone wanting to stay on after the trek can arrange to do so through Action Challenge at a cost and subject to availability.
Do overseas challenges damage the environment?
Marie Curie is committed to responsible tourism. This challenge is organised by our tour operator, Action Challenge, which will provide guidelines on responsible tourism. They offer a carbon offset scheme for anyone who wishes to offset their flights
What are the deadlines for my sponsorship money?
We require the 80% minimum of £3,300 (£2,640) by 2 September 2016. The remainder of the sponsorship is due 4 weeks after you return from the event.
Further Questions
If you have any further questions please call the events team on 0845 052 4184 or email events@mariecurie.org.uk.
Calls to 0845 numbers cost no more than 7p per minute plus your phone company's access charge.