Vietnam Trek 2016
Information
Event type

Overseas

Date

–


Minimum fundraising

£3,250

Registration fee

£250

Minimum age

You must be 18 years old to register for this event.

Contact

Location

Hanoi
Vietnam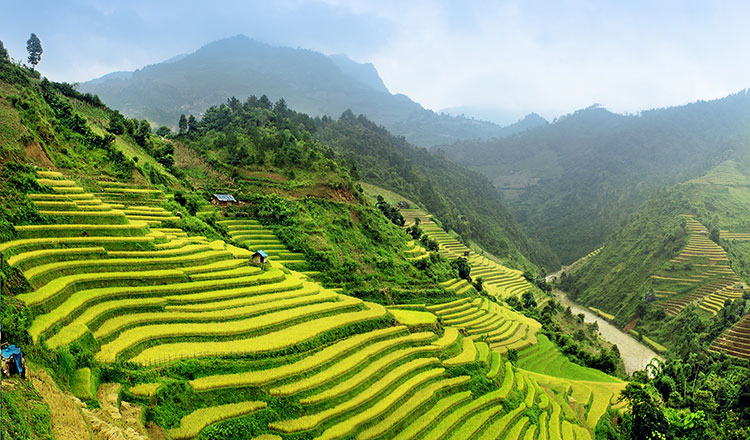 Trek stunning Vietnam with Marie Curie. Our trekking challenge begins in the charming city of Hanoi before heading to the beautiful Hoa Binh Province, through the valleys and paddy fields of Northern Vietnam to the breathtaking mountains of the Pu Luong Nature Reserve.
Register for the Vietnam Trek today and help us to continue providing care for people with cancer and other terminal illnesses.
This trek is a fantastic opportunity to explore the traditional charm and rare beauty of this untouched part of Asia. At night we will be guests in small villages and spend time learning about the local culture. This is a ten day trip, with six days of trekking.
Sorry, online registration is no longer available for this event. Please contact us on events@mariecurie.org.uk or call us on 0845 052 4184.
Why trek with Marie Curie?
By taking on this once in a lifetime challenge for Marie Curie you will help us care for more people living with a terminal illness. When you join us you will benefit from:
Training guides, hints and tips to get you ready for the big challenge
Lots of fundraising ideas in your welcome pack. If you're keen to get started with your fundraising right away, check out some of these ideas.
Access to a local community fundraiser who will advise you and help you smash your target
Two Marie Curie representatives who will trek the entire journey, join you on a training day and organise a post-trek reunion
A brightly coloured Marie Curie Overseas T-Shirt
Access to a Facebook Group just for your trek, so you can chat with your fellow trekkers beforehand
A 15% discount at Cotswold Outdoors
Itinerary
Here's what you'll be doing on the trek:
Day 1
Depart UK to Hanoi
We depart London for Hanoi, Vietnam via Kuala Lumpur.
Day 2
Arrive Hanoi
On arrival we will meet our local guides and transfer to our hotel. The afternoon is free to explore Hanoi, the charming capital of Vietnam. In the evening, we will have a full trek briefing about the challenge ahead.
Day 3
Hanoi to Mai Chau Valley – 3 hours trekking
After breakfast we transfer by coach to beautiful Hoa Binh Province. In the afternoon we will trek through picturesque villages and lush paddy fields to the quaint Thai village of Van. We stay overnight in traditional Thai houses on stilts.
Day 4
Mai Chau to Ban Bouc – 9 hours trekking
We have a tough ascent to the villages of Na Mo and Na Meo. We pass a number of other small villages before descending into a beautiful valley and hiking through Ban Te village, where we will stop for lunch in a local house. From here, we continue hiking on narrow trails alongside a river and across rice terraces, bamboo gardens and a suspension bridge.
Day 5
Ban Bouc to Pu Luong Nature Reserve – 8-9 hours trekking
After an early breakfast, our morning's trek takes us along the valley and leads us to the village of Van Mai. After an early lunch we board a local longboat to transport us down the majestic Ma River and take in the wild and breathtaking scenery of the Pu Luong Nature Reserve.
We sleep overnight in a Thai stilt house in a small village set among coconut groves.
Day 6
Kho Muong village – 8-9 hours trekking
Today, we have a long day of hiking on the old disused Ho Chi Minh Trail. There are some steep climbs and stream crossings as the trekking becomes more remote, yet we are never far from a villager tending the fields. We will relax over lunch in a local home before continuing to our overnight stay at Kho Muong village, nestled between steep Karst Mountains.
Day 7
Pu Luong Market Trek – 8-9 hours trekking
A challenging but glorious downhill trek to Pu Luong, where we will have the opportunity to enjoy the bustling market. After lunch we start our trek from the valley floor before climbing over a small mountain to Hin Village where we will stay overnight.
Day 8
Pu Luong Nature Reserve to Hanoi – 3 hours trekking
On the last day of our incredible Vietnam challenge, our morning trek leads us back through the valley of Ban Cao where we will meet our jeeps and begin our transfer back to Hanoi. Tonight we will celebrate our achievements with a special gala dinner.
Day 9
Hanoi to UK
We have a free morning to relax until our transfer to the airport for our overnight flight back to the UK
Day 10
Arrive UK
Frequently asked questions
Do I need to sign up online?
Signing up online is quick and easy to do and it saves us vital money to put towards supporting people living with a terminal illness. The registration form is also available to download and print. If you are not able to sign up right now, why not save this page to your favourites so you can sign up online later?
Who can take part?
You must be 18 years old or over to take part. The group size will be around 40-45 with people of all ages from all backgrounds. Most will be on their own, but some will go with friends, partners or relatives.
How fit do I have to be?
This is a very strenuous challenge and you will need to train to succeed. All our challenges are designed to suit people who are fit and have trained to take part – the fitter you are, the more you will enjoy the adventure.
Will I need specialist kit?
We will send you a recommended packing list in your welcome pack which will detail any specialist equipment you may need.
What is not included in the package?
Registration fee
Recommended vaccinations
Tips and gratuities
Travel insurance
Personal spending money
What food and drink will there be?
Bottled water is provided throughout the trip. All meals are provided on the challenge and will include lots of carbohydrates, such as pasta and potatoes, along with cereals, bread, fresh fruit, vegetables and eggs, plus some meat. There will be vegetarian options at every meal. Feel free to bring a few of your favourite snacks too. Please let us know in advance of any special dietary requirements.
What about vaccinations?
Typhoid, Hepatitis A and Japanese Encephalitis are advisable. Tetanus and polio vaccinations should be up to date. Anti-Malaria protection should also be taken. This is a guideline only. Participants must seek professional medical advice from their GP or local travel clinic.
How will I be supported?
Beforehand: You will be sent a fundraising pack with great tips on how to meet your sponsorship target. We will be in touch regularly and will organise a briefing day where you'll meet other participants and hear more about the challenge.
During the trip: Your group will be accompanied by a qualified medic and trek leader, as well as a Marie Curie representative. Local guides will escort the group along the route. Your luggage is transported by vehicle to each night's accommodation.
Can I cover the cost of the trip myself?
We ask you to raise a minimum of £3,250. A minimum of £1,855* will go directly to Marie Curie, as well as anything you raise over the minimum sponsorship. If you would like to pay for the trip yourself please contact us on 0845 052 4184 for further information.
What will the weather be like?
Despite the humidity, March is one of the best months to trek in Vietnam. You can expect the weather to be sunny with average temperatures around 20°C. However we would recommend you come prepared for all weather conditions.
What will the accommodation be like?
A mixture of hotels and traditional wooden houses on stilts.
Passports and visas
Participants should have at least six months' validity on their passports from the date of return to the UK. British passport holders are required to apply for a tourist visa to enter Vietnam. We will send further details of how to do this nearer the time.
Can I extend my stay?
Anyone wanting to stay on after the trek can arrange to do so through The Ultimate Travel Company at a cost and subject to availability.
Do overseas challenges damage the environment?
Marie Curie is committed to responsible tourism. This challenge is organised by our tour operator, The Ultimate Travel Company, which will provide guidelines on responsible tourism. They offer a carbon offset scheme for anyone who wishes to offset their flights.
What are the deadlines for my sponsorship money?
We require the 80% minimum of £3,250 (£2,600) by 24 December 2015. The remainder of the sponsorship is due 4 weeks after you return from the event.
Further Questions
If you have any further questions please call the events team on 0845 052 4184 or email events@mariecurie.org.uk.
Calls to 0845 numbers cost no more than 7p per minute plus your phone company's access charge.