Virgin Money London Marathon 2017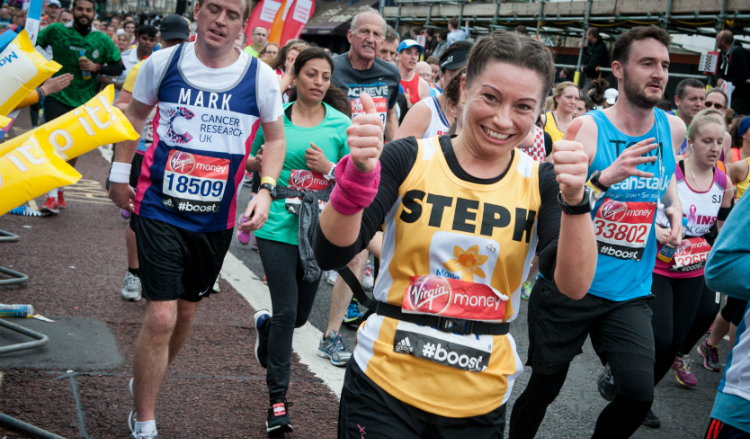 Information
Event type

Running

Date

Time

–

Distance

Marathon

Minimum fundraising

£2000

Registration fee

£50

Minimum age

Please refer to the event website.

Contact

Location

Greenwich
London
SE10 8XJ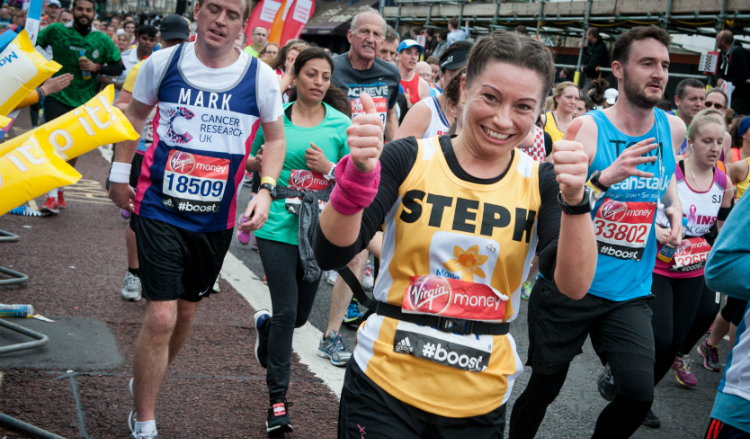 Join Team Marie Curie for the most iconic and exciting running events in the calendar year!
Just picture it, taking to the streets of London, with thousands of people lining the roads cheering you on, the London Marathon is not to be missed! It's an experience like no other and we can assure you it'll be a memory that lasts forever.
Our charity places
Unfortunatly our charity places are now full. To be in with a chance with taking part in the 2018 London Marathon please do check back here in April 2017.
The London Marathon ballot
The official Virgin Money London Marathon ballot is now closed. If you managed to enter and are lucky enough to get a place, why not join Team Marie Curie? There's no minimum fundraising, we just ask you to raise as much as you can and we'll support you every step of the way.
Why you should join Team Marie Curie?
We'll be there with you every step of the way - from the moment you sign up with us to the second you cross the finish line and beyond. We'll give you all the help, support and encouragement you need.
Highlights include:
A unique Team Marie Curie technical running vest
Friendly and experienced fundraising advice from our dedicated London Marathon Team
London Marathon Expo stand where you can meet the team and get excited for the big event
Online running / training club to meet your fellow London Marathon runners
The loudest cheers, for some on the day encouragement when you need it most
A rickshaw service to take you from the finish line to our post-race reception, where your family and supporters are welcome to join you
Refreshments to help you recover from the big race

And a well deserved massage to get you ready for the journey home – it's the least we can do after your heroic efforts.
For more information on running the Virgin Money London Marathon for Marie Curie please email london.marathon@mariecurie.org.uk or call 0845 052 4184.