The Big Half 2018
Information
Event type

Running

Date

Distance

Half Marathon

Minimum fundraising

£350

Registration fee

£30

Minimum age

You need to be a minimum of 18 years old to take part in this event.

Contact

Location

Tower Bridge
London
SE1 2UP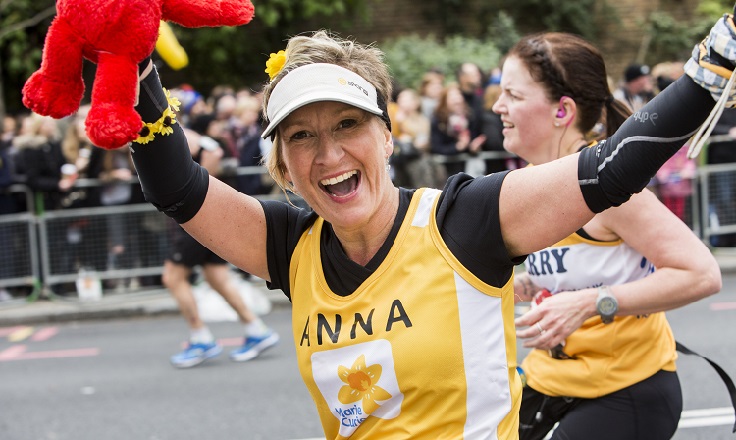 Be part of this exciting brand new 2018 event! The race takes place in central London and the unique route includes iconic landmarks, starting at Tower Bridge and finishing by The Cutty Sark in Greenwich.
Charity Places
We're sold our of charity places for 2018 but if you're really interested and keeping up with your training, it's worth putting your name on our reserve list in case someone has to drop out of the event, you can do this by getting in touch with our events team on 0845 052 4184 or email team@mariecurie.org.uk.
Getting your own place
General entry has now sold out on The Big Half website. If you were one of the lucky ones and managed to secure your own place, we'd love for you to use it and join Team Marie Curie!
Why join Team Marie Curie?
As part of our team you'll receive fantastic support from the moment you sign up all the way until you reach the finish line. We'll also provide you with:
A Marie Curie running vest which you can wear with pride
Iron-on letters for your name
Temporary tattoos
Dedicated training guides
On-hand support from our dedicated fundraising team
The loudest cheers along the route
An online fundraising pack to help you smash those targets.
Raise sponsorship money online.
Want a quick and easy way to start raising money?
Set up an online fundraising page and, in a just few clicks, you'll be on your way to reaching your sponsorship goal.
Any other questions?
For more information, please do not hesitate to contact our events team or call 0845 052 4184.
Sorry, online registration is no longer available for this event. Please contact us on team@mariecurie.org.uk or call us on 0845 052 4184.