Padstow to Rock - Final Details
When it comes to the Padstow to Rock Swim, we can't wait to meet you on your big day and hear all about your swim. Check out our information below for all the final details.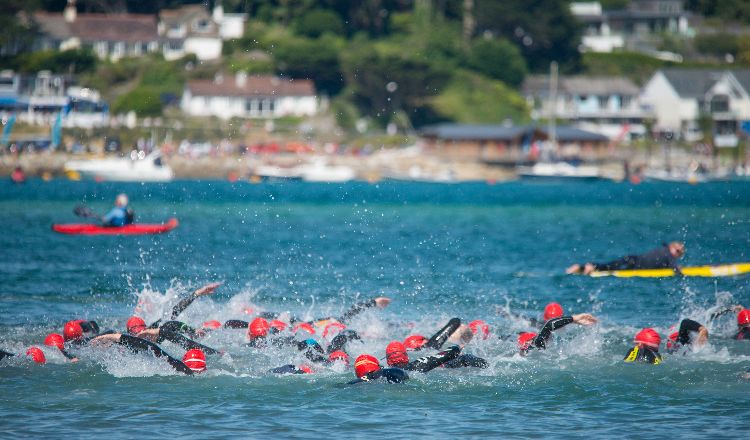 Event details
The Padstow to Rock Swim Challenge offers competent swimmers the unique opportunity of a near one-mile open water swim across the popular Camel estuary, under controlled conditions. All entrants must be capable of swimming at least one mile in open water. There are two categories of swimmer, sent off in separate waves:
The first wave is for Elite swimmers, who must complete the swim in a maximum of 30 minutes
The second wave is for Non-Elite swimmers, who must complete the swim in a maximum of one hour.
Wet suits are mandatory for all swimmers and it is recommended that you have previous wet suit and open water swimming experience prior to this challenge.
If, for any reason, you are no longer able to participate in the swim, it is essential that you let us know as soon as possible, as we have a long list of reserve swimmers wanting to take part. Please email padstowswim@mariecurie.org.uk or call 01872 260 500.
Event registration
You must register in person between 10.30am and 2.30pm.
On the day, please come to the registration desk, which will be located in the Padstow Sea Cadets building (at the end of the car park at the start of the Padstow to Wadebridge Camel Trail).
At registration all swimmers will be provided with a high-visibility, numbered swim cap. The number on your swim cap will be written on both your hands. You will be given a bag to put your towel, shoes and essential clothes in for collection at the finish. This bag will be taken over to Rock by boat.
The course
The swim is from the Sea Cadet slipway in Padstow (Padstow Quay, South Quay, Padstow, Cornwall, PL28 8BL) to the RNLI slipway in Rock.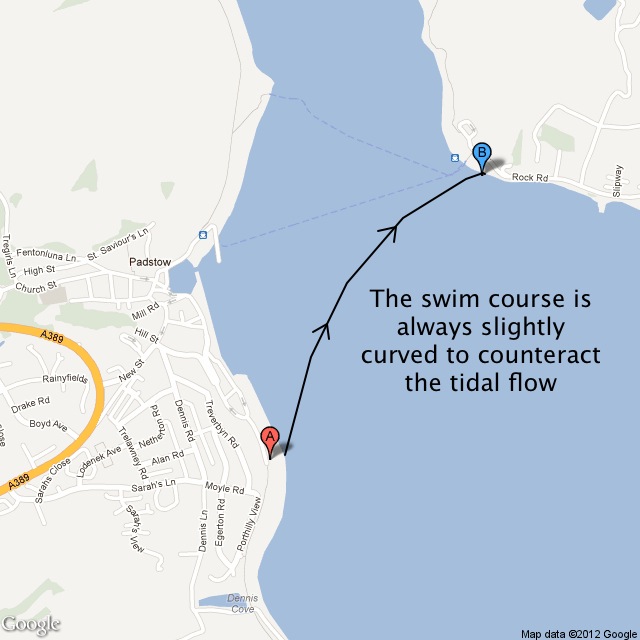 Baggage transfer
There will be only one bag run to Rock at approximately 3.45pm. Listen out for information regarding the transfer of bags to Rock.
Please do not put any valuables in this bag
Only put the required post-swim dry clothing in the bag to be ferried to Rock
Ensure each Marie Curie bag is labelled with your unique swim number
One bag per swimmer - do not share bags.
Event timings
Timings are crucial for this event, although tide conditions on the day may introduce some timing variations:
10:30AM - Registration opens
2:30PM - Registration closes
3:45PM - Bag run to Rock. Swimmers go to the start area
3:50PM - Swim brief
4:30PM - 1st Wave (Elite) START
5:00PM - 1st Wave (Elite) FINISH
5:00PM - 2nd Wave (Non-Elite) START
6:00PM - 2nd Wave (Non-Elite) FINISH
Start times
Please ensure you listen to the Swim Safety Briefing, given on the day at approximately 3.50pm.
1st wave Start – Elite swimmers in 4.30pm and out by 5.00pm.
2nd wave Start – Non-Elite swimmers in 5.00pm and out by 6.00pm.
Checking in and out of the water (an essential safety measure)
At the start, before entering the water, you will be checked out. Please make sure you give the checker out your swim number

At the finish you will be checked in, so please ensure that you give the checker in your swim number when leaving the water.
Event rules and regulations
Wetsuits must be worn. Swim hats will be provided and must be worn at all times when in the water
All swimmers to be at the start area by 3.40pm
All swimmers must attend the Pre-Swim Safety Briefing at approximately 3.50pm
Swimmers will be pulled from the river at the discretion of the River Controller
Ensure you are checked OUT at the Padstow Start and checked IN at the Rock Finish
Show your Swim Number at both the START and FINISH please.
On course support
Safety boats, canoeists and boarders will escort you along the swim route, which is marked by buoys.
First aiders will be on the water, and there will be full medical aid at Rock.
Finish line
Follow the directions given at the Rock Finish Line

You will be pulled from the water if you are considered not likely to make the time limits
Once you have checked out, you can collect your complimentary food, certificate, and exchange your swim hat for a T-shirt
Do not leave the finish area until you have been fully processed.
There will be complimentary ferry passes, obtainable at Rock, for all swimmers who need to return to Padstow, and for those swimmers who need to get to Padstow from Rock to take part in the swim.
Catering
There will be refreshments, a licensed bar and a BBQ at Rock for all swimmers, spectators and supporters, so please bring your friends along. We hope there will also be early evening entertainment on the bandstand in Padstow, to keep the party spirit going.
Results
The swim will not be timed – remember, it is not a race, it is a challenge!
Parking
Car parking is the responsibility of the swimmer. There are public pay and display car parks on the quay at Padstow, although there is no guarantee of availability. Car parking at Rock may well prove difficult.
Toilets
Public toilets are located at the entrance to the main car park in Padstow and at Rock.
Accommodation
Contact Mariners Lettings for holiday properties in the Rock area: www.marinerslettings.co.uk
Fundraising
By taking part in this event you will be raising much needed funds to support the work of Marie Curie Nurses. Marie Curie is here for people living with any terminal illness. Our nurses provide them and their families with expert care and emotional support at no cost, in their own homes and in our hospices.
To help you go that extra mile in your fundraising efforts, here are our top three fundraising tips:
Visit the JustGiving website and set up an online fundraising page
Ask all your colleagues and friends to sponsor you
Use your social media pages to share your story and link to your JustGiving page. You can even ask your friends and family to show their support by sharing your page with their networks.
Event sponsors
We are very grateful for the sponsorship afforded to the swim by the following: