You're helping nurses like Tracey this Christmas
Marie Curie Nurses like Tracey work through the night to care for people living with a terminal illness in their homes. They offer vital care and emotional support when people need it most, bringing light in the darkest hours.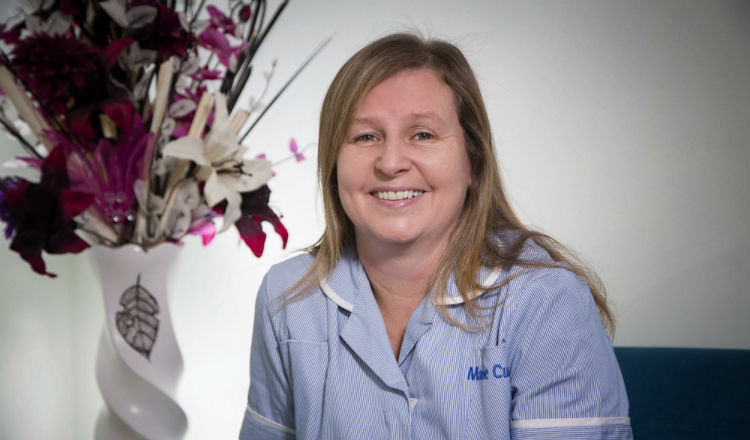 From Christmas Eve until New Year's Day, Marie Curie Nurses will be working across the UK so that families living with a terminal illness can spend Christmas the way they want to - together. Marie Curie Nurse Tracey explains what's it's like supporting families over the Christmas period.
"Working over Christmas can be a very emotional time for all. I remember caring for a young mum with two teenage children. They attempted to maintain some sort of normality on Christmas Day even though they knew that this would be their last Christmas together. It's important that we too, as Marie Curie Nurses, maintain this normality by respecting their wishes and helping them live life to the fullest.
"It's about building up a relationship"
"People feel very vulnerable in the night. They're so tired at night, they're absolutely exhausted. It can be difficult caring for a loved one at home and so when we come in, it gives them a chance to have a rest so they can then carry on. People want to die at home and if we weren't there, then they may not have that option."
Tracey provides expert one-to-one care to help people and their families make the most of their time together. "It's about building up a relationship," Tracey explains. "You have to have respect for them and respect for the patient."
"It's a holistic care approach and so the care includes the family. The patient is at the centre, but the family have such an important role. We don't forget about the family.
"I have time to sit down and listen, something you don't necessarily have in a hospital setting. This is when you have time to get to know the patient.
"Sometimes you are the person they open up to. They don't want to bother or worry their family so they talk to you about how they're feeling and what they're worried about."
Remembering families who've lost someone
Once her shift is over this year, Tracey will go home to her own family to celebrate Christmas Day. "I'll wake my three teenage girls who'll still probably be in bed and the celebrations will begin. They often ask why I have to work at Christmas and why can't someone else do it. I reply by telling them how lucky we are to be together and having our health and that they should remember the families who have lost someone they love.
"It's important to be aware of the support that we offer as a Marie Curie Nurse and how we help patients and families through one of the most difficult times in their lives.
"I enjoy working over Christmas as I get a sense of accomplishment in the work that we do, both as an organisation and as an individual. Marie Curie aims to provide 24/7 care in the setting the patients wish for and by working over Christmas I help to make this happen."