Our phone fundraising
Marie Curie uses telephone fundraising to communicate with our existing supporters or members of the public who have expressed an interest in our work and only where we have permission to do so.
Telephone fundraising helps us speak directly with supporters to update them on our work, let them know what their support is achieving and raise vital funds so that we can continue providing hands-on nursing care to those living with a terminal illness, as well as emotional support for their families.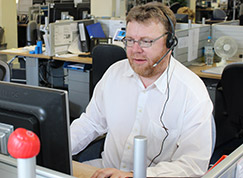 Marie Curie works exclusively with a leading telephone fundraising agency to carry out all of these fundraising calls. This partnership and longstanding relationship ensures a consistent and collaborative approach. We work together to ensure the best supporter experience. Our approach is sensitive to supporters' experiences, and we do not place anyone under pressure to give. We ensure at the beginning of every call that supporters are happy to speak to us and seek permission to call them again in the future. We also ask everyone we speak to whether they were happy with the conversation before we leave them. Our supporters are in control of how we communicate with them and can end the call or opt-out of future calls at any time.
If at any point during the call it becomes clear that the supporter we are speaking to is vulnerable or appears to be distressed, both Marie Curie and the agency's strict rule is to politely end the call and remove the supporter from future contact.
Our agency maintains the highest level of Data Protection to safeguard all supporters' details. It is also PCI compliant, meaning they adhere to the proprietary information security standard for organisations that handle branded credit cards from the major card schemes. They also follow the Institute of Fundraising's code of conduct, which states that "Professional fundraisers MUST make a solicitation statement every time they solicit donations on behalf of a charity or an institution which is established for benevolent or philanthropic purposes. In the case of telephone fundraising, the appropriate statement MUST be made during each call".
The Institute of Fundraising's Code of Practice does not specify when in the call the disclosure should be made. There is widespread agreement throughout the sector that the best place for the statement is at the end of the call when a supporter can receive this information clearly. Any supporter who agrees to donate to Marie Curie is sent a confirmation letter within 3-5 working days of the call and given a minimum of 28 days before any donation is collected by the charity. They also have the right to cancel the donation at any time.
All complaints received by Marie Curie are logged and thoroughly investigated. Every call made on our behalf is recorded and available for review at any time.
We regularly review and audit the practices of our external fundraising agency and have a robust quality assurance and mystery-shopping process in place to assess the quality of service we receive from them. Marie Curie does not encourage a sales culture, and none of our fundraisers are offered incentives for performance. We are satisfied that none of our agency staff place supporters under pressure to donate and merely do their best to raise funds on our behalf, but we welcome and rely upon feedback from our supporters to help us ensure all conversations are the best they can be. If at any time you have concerns about any of our fundraising practices, please contact our Supporter Relations Team on 0800 716 146.
Our fundraising promise
We are committed to the highest standards of fundraising practice. All our fundraisers receive training from a member of the Marie Curie team or a trainer audited by a member of the Marie Curie team. We also regularly mystery shop our fundraisers to ensure they are following our agreed standards.
Telephone and Mail Preference services
If you'd like to update your contact preferences, you can call us on 0800 716 146 or email supporter.relations@mariecurie.org.uk. You can also register your details with the Telephone Preference Service (TPS). You can find out more about these services on our Privacy policy page.