Marie Curie Volunteer Internship Programme
The Marie Curie Internship programme is a 12-week voluntary placement offering an exciting and unique opportunity to make a difference to individuals and families living with a terminal illness.
Our Volunteer Internships are be based in a departments in one of our offices or hospices, and would involve volunteering for up to three days a week (usually during standard office hours). Internship roles are available across Marie Curie.
Applications for our internship programme are open to anyone over 18 years of age. You might be a graduate, undergraduate, returning to work or simply looking for a career change.
Each role is designed to focus on a specific project, and detailed requirements of skills and interests for each role will be listed on individual descriptions. You might be involved in organising an event, conducting research, developing part of a campaign or supporting a team to deliver a specific project.
Marie Curie will offer you:
An opportunity to gain insight into the charitable sector
A detailed induction session, multiple workshops and other learning and development resources.
An opportunity to meet other interns on the programme.
Reasonable travel and lunch expenses.
On-going support and a dedicated manager.
A high quality, challenging, inclusive and fun intern experience.
Our internships starting in September 2017 are now open.
Meet Samuel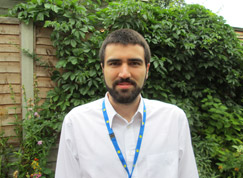 Samuel Stone is an intern in our Policy and Public Affairs department.
"I applied for the Policy and Public Affairs internship at Marie Curie because I saw this role as an excellent opportunity to gain practical experience. I have an interest in health policy and relished the chance to work at a leading end of life care charity.
"My internship has really lived up to my expectations. I have gained first-hand experience, writing policy briefings for staff and drafting consultation responses. I have improved my knowledge of the policy process by working on the Care Bill, which is currently before Parliament – a Bill that, if passed, will make some significant changes to social care in England.
"I started my internship at an important and exciting time given the number of important changes to the health sector that are being made through the government's health and social care reforms. Part of my role has been to assess how some of these reforms will impact on Marie Curie and the palliative care sector.
"I really like the atmosphere here. The Policy and Public Affairs team is very friendly and helpful and everyone has a good sense of humour."
Our internships starting in September 2017 are now open.
Student placements
From time to time opportunities arise for student placements at Marie Curie
If you'd like to register your interest for our next intake of volunteer internships or would like to enquire about a student placement, please contact our Volunteering team 0800 304 7032 or email volunteering@mariecurie.org.uk