Alex's story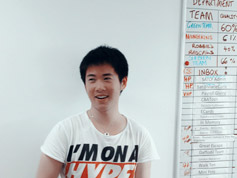 Alex Renyuan is a volunteer in the Supporter Administration Team in Edinburgh.
"I am a university student and every summer I try to do something that is both meaningful and can also help me in my future career. I feel that my role in society is not just as a student but also as someone who can make a difference.
"This is my first office job and most days I am at my computer, dealing with customers' data and carrying out a range of administrative tasks. Most are finance related such as handling income from our supporters and dealing with bank feedback, and I'm learning lots that will help with my studies when I go back to university.
"I really enjoy working with the people here. Everyone is friendly and there is no difference between managers, team leaders and workers. Everybody is treated the same. As a volunteer I've found that the more effort you are willing to put in, the more experience and skills you can gain."