Carol's story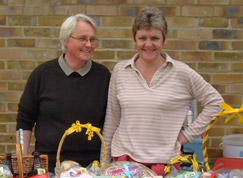 "Having cared for my partner, Diane, for 26 months and then, the same year, closing the company that I had worked in for 25 years, I found myself with not only a lot of time on my hands (always a workaholic), but also a feeling of being quite rudderless. I started to look at volunteer opportunities.
"During an earlier crisis intervention I had contacted Marie Curie independently to seek assistance. Importantly, I was listened to and knew they understood. Later a chance meeting and an advert for participants for the Expert Voices group reminded me of the phone call and I successfully applied.
"The Expert Voices group comprises 36 members, all volunteers from across the UK. They are people like myself who have cared for those we love, and there is an incredible array of backgrounds, ages, experience and lives.
Valued experience
"In the past year I have been involved in a huge variety of activities, including reviewing a proposed new leaflet publication a Carers Week speed networking event in parliament two amazingly energising research conferences – and much more. I also sit in on the Patients and Families First meetings, which are Marie Curie policy and discussion forums.
"My opinions and experience are valued. Being a carer has given me contact, communication and, most importantly, somewhere that we are sensitively understood. It is also a safe place to deal with and discuss what life has thrown at us. Marie Curie is not afraid to listen to voices of change. What do I gain out of volunteering? All of the above but, most importantly, it gives Diane a voice as well."