Edgar's story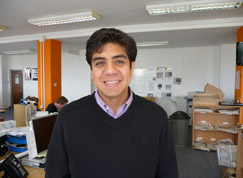 "I worked as a project manager in a consulting firm in Mexico City. I was the link between the technical IT team and the end user. I have been able to put into practice the systems and project management expertise I gained there to support Marie Curie.
"My role involved supporting process design and developing documents that improve communication between the technical people and the service users. The work I did will help make sure that the charity's training processes are efficient, effective and make things as easy as possible for learners.
"Marie Curie is a great organisation, and as far as I am aware there is nothing like it in Mexico. I have had friends who have lost friends and family to cancer and I think the work that Marie Curie does to support people who want to die at home and their families is really important. That's why I wanted to volunteer in any way that would be useful.
"I wanted to give the charity my time while I was in London and not working full-time. I really enjoyed volunteering at Marie Curie. I have been able to use my skills in a valuable way and also improve my English."