Help people in your local area
If you want to help patients, carers and families at your local hospice or in their homes, then we have a range of roles to suit you. We've highlighted a few below.
Marie Curie Helper
Marie Curie Helper volunteers visit terminally ill people in their homes, offering companionship and support for up to three hours each week. The role involves helping with activities such as reading, making short trips to the shops and providing information on local services. It also requires patience, empathy and the ability to listen. Helper volunteers receive extensive training before they start, and then ongoing support throughout their time volunteering.
Hilary's story
Hilary was inspired to become a Helper volunteer following a cancer experience in her family. Hilary says, "Having a Helper volunteer is like having an extra friend in the family with the knowledge to help."
Volunteer in one of our charity shops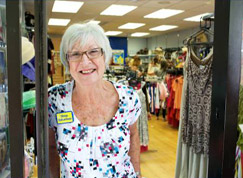 Shop volunteers help with the day-to-day running of our shops, working as part of a small, friendly team for half a day or more a week. They get involved in tasks such as operating the till, taking receipt of donated goods and helping customers on the shop floor. Volunteers also work behind the scenes to sort and prepare goods for sale in the shop.
Meet Cherry
"I do three days a week, which is perfect for me as I have time for other things and can still see my friends," she says. "It's nice to be able to do something useful. I'd recommend it to everyone."
Read more about Cherry's story
And why not meet Liz, another of our volunteers
There are vital roles in Marie Curie shops across the UK. Most shop-based roles are not currently advertised online, so if you can support us in this way, pop in and have a chat with a member of staff or an existing volunteer.
---
Hospice roles
Hospice Catering Assistant
Whether it's a cuppa or a three-course meal, hospice catering volunteers provide a vital service to our patients. Working as part of a team, Catering Assistants help serve refreshments and take the shop trolley into wards and rooms. This key role involves chatting to patients and the ability to work together with other volunteers and staff members.
Hospice Day Care Assistant
Day Care Assistants support day patients during their time at the hospice. They help with a range of tasks including chatting to patients, running activities such as art and crafts and serving refreshments. Our Day Care Assistants need to be flexible, happy to get involved in whatever is required and be able to commit to a few hours each week or fortnight.