Our Helper volunteer, Irene
"Looking back on my employment, all the jobs I've had have involved caring in some way. It's something I've always enjoyed and found rewarding.
I've worked in pharmaceutical chemistry, the Royal Navy and as an infant teacher. After taking early retirement I worked in a charity shop and provided chaplaincy support. I wanted to continue caring for people which is important in my Christian faith. I saw a poster for the Marie Curie Helper service in the local supermarket and that was how I got started here.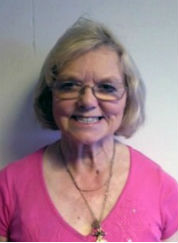 What I enjoy most about volunteering is meeting other people and hearing their stories. I learn about courage and the attitudes when faced with difficulties and admire others in difficult times. I want to feel useful and not become invisible in my older years. It's a satisfying experience and I also enjoy meeting all the other volunteers – these are some really amazing people.

I've learnt a lot during my time volunteering, mainly counting my blessings. Everyone has hardships and worries and it keeps our own in perspective. Everyone likes to feel part of a community and the support I get as a volunteer is very rewarding and comforting and makes me feel a part of something bigger."
If you'd like to be like Irene and become one of our amazing Helper volunteers, register your interest and we'll be in touch if there are spaces in your area available.