Malcolm and John
A welcome break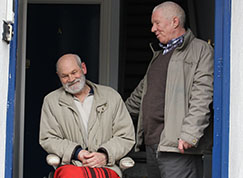 Malcolm Newham was once a very active man. In his youth he was a professional footballer for Millwall and later worked as a steeplejack, scaling high buildings and performing repairs and maintenance.
Now 73, Malcolm has COPD and is wheelchair bound. He lives alone and often feels isolated. However, once a week his Marie Curie Helper Volunteer, John Stevenson provides a welcome break.
Malcolm's illness means he struggles for breath, which sometimes having to be admitted to a local hospice or hospital for care. When he is well enough to stay in his flat, concrete steps, which he cannot negotiate in his wheelchair, prevent him from leaving. In such circumstances, the Marie Curie Helper Service is really vital for him.
A vital service
John is 54 years old and comes to see Malcolm every week, something which Malcolm really looks forward to. "John is a really nice man," says Malcolm. "I know he's always there for me, whenever I need him he helps me. And always makes the tea!"
John has also been instrumental in lobbying for Malcolm to get moved to more suitable accommodation. He has helped him fill in the relevant forms and also contacted his local MP for help. The results should hopefully see Malcolm move to wheelchair-friendly accommodation in the not so distant future.
"He's desperate to get out of his flat as he's basically housebound," says John. "I can't help him with the wheelchair to get out because I've got a bad back. So we stay in and talk. He is very sociable so he would like to go out."
"I normally stay for an hour, maybe a bit longer, but I leave it up to him as his breathing can mean he can't talk for too long at a time. I stay as long as he wants me to."
"We have good banter. I like coming to visit him and we have a good friendship. I love it [being a volunteer]."