Stephen and Daniel
The two way benefits of the Marie Curie Helper Service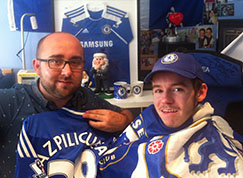 In 2013, 20-year-old Stephen Airey, who has severe Duchenne Muscular Dystrophy, was matched with 29-year-old Daniel Winterburn, a Marie Curie Helper Volunteer.
The pair instantly took to each other and Daniel's weekly visits see them play computer games, watch TV and talk football. Stephen loves to have someone he can share his interests with. Daniel provides a listening ear and is someone Stephen can be completely honest with.
Stephen's condition is hereditary –many family members have died from the same illness – and his situation is further complicated by an increased risk of cardiac arrest. Stephen lives with his grandmother, Maureen, and receives a great deal of support from his mother, Donna, who lives nearby.
Although the family has the support of carers for four nights a week, Maureen carries out much of his care alone. Because their medical support network tends to come and go depending on Stephen's health, both Stephen and Maureen benefit from the continuity and stability of the Helper service.
Making dreams come true
"Daniel's visits are brilliant," says Stephen. "We play on the Xbox, watch TV and talk football – it's good to be with someone who doesn't just see me for my illness and I can be completely open with him, knowing what we say is in confidence."
As well as being welcome company for Stephen, Maureen also benefits from Daniel's visits as it provides her with some respite from care. "The Marie Curie Helper service has been a real help to us from day one. Daniel's weekly visits have been absolutely great for both of us – a bit of company for Stephen and a break for me. I can't thank Marie Curie enough for giving us that," says Maureen.
The Helper service has also made one of Stephen's dreams come true. He is a mad Chelsea fan but had never been able to attend a game. Daniel got in touch with the Helper Service Manager and between them, and with the help of Chelsea Football Club, they were able to arrange for him not only to go to see his heroes at Stamford Bridge, but also to meet them after the match.
Two-way benefits
Having previously worked as a support worker for adults with dementia, Daniel became a Helper to aid his professional development. He was in the first Liverpool group to be trained as Helpers and has found that the service has not only helped him develop professionally, but personally as well.
"It may sound like an exaggeration to say the Helper service has really developed me as a person," says Daniel. "In a professional capacity training in social work I have learned a lot, but much more it has given me huge experience on a personal level. Because Stephen and I have the same interests we clicked from day one – I enjoy my weekly visits and have learned a lot about myself from supporting such an inspiring young man."