How our Bradford hospice cared for Zahir and his family
Zahir, who had terminal cancer, was cared for at our Bradford hospice in the last three weeks of his life. His wife Robena explains his story: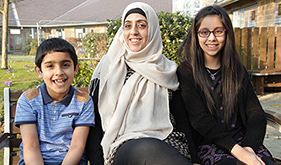 "I never expected death to knock on my door at my age. I had two small children – a four-year-old son, and a 10-year-old daughter – when my husband, Zahir, was diagnosed with terminal lung cancer. He was 42.
"Zahir had a DIY store and had been working long hours but he had to stop. I was working as an administrator for a magistrates' court and looking after my children. I had to take time off work to care for him.
"Looking after Zahir and two small children was difficult. He needed constant care because he was losing his balance and had trouble walking. I couldn't leave him on his own.
Hospice prayer room
"Our consultant said Zahir had only weeks or months to live so it made sense to move him into the Marie Curie Hospice in Bradford. That was a big shock. Zahir seemed still very strong, determined and positive – we thought we had much more time.
"When he moved into the hospice it was so much better than I expected. Zahir had his own room where visitors could stay overnight. There was a prayer room, conservatory, a multi-faith church and eating areas.
"The staff listened to me and talked to me about how I was coping. I didn't expect to make so many new friends and to experience such a loving environment.
"At the hospice, I really saw the warmth of humanity – no matter what your colour or creed, we were there for each other and I will always carry this feeling with me. It felt like there was a ring of people holding hands around me and my children – I've never experienced this before or since.
Pain relief
"In the last few weeks of Zahir's life, I thought I wanted to move him so he could die at home, but I changed my mind because at the hospice he could get quick access to pain relief and other medical help. And perhaps even more importantly, at the hospice I knew I would get more quality time with him.
"I told family and friends how ill he was and, as is the case with many Asian families, people came from far and wide to visit him at the hospice. It is etiquette to feed visitors so my relatives brought food and we often ate together in the eating area at the hospice. As he became very ill we had to restrict visitors. The hospice helped us manage this – it's not something we could have done in a hospital.
"He died late on a Sunday night. I was with him at the end – I will never forget it. The following morning his body was taken to the funeral parlour and then the mosque and buried at lunchtime on Monday. It is very important in my religion to be buried quickly otherwise it would have been very distressing and stressful for me.
Hospice felt like home
"Zahir's death was very hard for me to come to terms with. We had been married for 18 years. I had counselling at the hospice for around a year afterwards – it really helped me.
"I would very much recommend the hospice to friends and family. Often in the Asian community people believe the family should look after the relative at home. But I know that this hospice felt like home for me and I couldn't have looked after my kids and my husband. I will always be grateful for those last days with him."
Find out more about Marie Curie Hospices
Read about how Marie Curie Hospices can help you and how to get hospice care. There are also lots of ways for you to support our hospices too.