Hospice care helped Bernadette get strong enough to come back home
Bernadette was cared for at the Marie Curie Hospice, Belfast when she had oesophageal cancer. Afterwards, during a period of remission, the former pastry chef found she could enjoy food again. Her daughter Deirdre explains: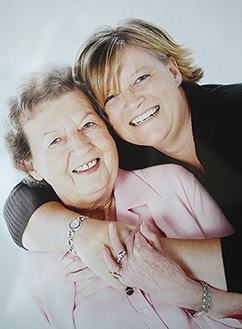 "When my mum, Bernadette, first went into the Marie Curie Hospice, Belfast in 2002, she was in a bad way.
"She'd just had four months of hospital treatment for oesophageal cancer. She was also in remission for breast cancer and had undergone a mastectomy the previous year.
"Mum underwent 27 hospital radiotherapy and chemotherapy sessions for the oesophageal cancer before deciding she'd had enough and wanted to discontinue the treatment. She was transferred from the hospital's oncology unit to the hospice.
"Wonderful" hospice staff
"When Mum first went into the hospice, she hadn't eaten anything for several weeks –she'd been on a drip in hospital. She had been a professional pastry chef and food was everything to her.
"So when she lost her appetite and was unable to eat, she lost a big part of her life.
We didn't think she would be coming home from the hospice and thought she may have another two or three weeks to live at the most.
"The hospice staff were wonderful to Mum. They saw she was getting stronger and organised for her to have a feeding tube. After just four weeks at the hospice, she was well enough to come home, where I cared for her. Before long, her cancer went into remission.
Support at home
"After four months, Mum didn't need the tube any more. The first thing she ate was a small piece of fish. Then she got back on to proper food. She became very adventurous in her tastes, enjoying flavours she never would have eaten before she was ill, such as Thai food.
"When she was in remission, Mum also got back into cooking again and she really enjoyed it. We had a wonderful Christmas. My sister, who lives in France, came over with her five children. Mum made a traditional Christmas dinner for everyone. It was a wonderful time and we all remember it very fondly.
"Marie Curie gave Mum, my family and me fantastic support while she was being cared for at home. I'd call the nurses when I needed advice and they gave us emotional support.
Fundraising thank you
"In January Mum developed what we thought was a chest infection. She had a chest x-ray and it was discovered that her breast cancer had returned and spread to her lungs. After her diagnosis we went home to tell the rest of the family. Ten weeks later, shortly after her 71st birthday, Mum finally succumbed to an infection which ultimately provided for the very gentle departure of an incredible lady.
"Since then, as a way of saying thank you to the charity, I've raised lots of money for Marie Curie through sponsored activities such as the Swimathon and collections.
"I'm so grateful to Marie Curie for caring for Mum at the hospice and being there for us afterwards. During the 18 months that Mum was in remission, she recovered her old self and really embraced life. We had a fantastic time, and that is in no small measure thanks to the care and support we received from Marie Curie."
Find out more about Marie Curie Hospices
Read about how Marie Curie Hospices can help you and how to get hospice care. There are also lots of ways for you to support our hospices too.