Takeaways and TV nights for Mandy at Edinburgh hospice
Mandy enjoyed a takeaway in front of the TV with her family – and thanks to our Edinburgh hospice she could keep doing that even while being cared for with terminal cancer.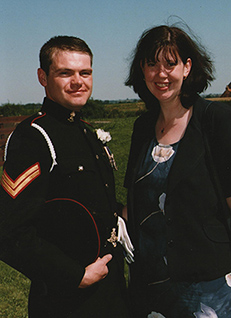 Mandy was 40 when she was told she had terminal breast cancer. Her husband Vincent tells her story:
"It was a shock to hear that the cancer was terminal. We were told by the GP that Mandy only had a matter of days to live. But when she went to Marie Curie, there seemed to be an improvement to her health straight away.
"She seemed to get better because she was able to eat again. At the time, she was suffering with seizures because the cancer had spread to her brain, but Marie Curie got on top of that right away and her quality of life dramatically improved.
Hospice wasn't a miserable place
"Mandy was in the hospice for a total of four weeks and the first two and a half were really memorable. You'd assume it's a miserable place because everybody is terminally ill, but it was the exact opposite. The staff, from receptionists to the cleaners, right through to the nursing staff, would bend over backwards to accommodate us.
"They let me sleep in my wife's room for the first couple of days. I couldn't leave her, so they put a bed in the room and when she started to improve I went home. And then I stayed again towards the end, which made me feel a lot better.
"The staff don't just look after the patient's clinical needs – they were genuinely concerned about our family and what my children and I needed, which you don't get in hospital. The nurses took time to talk to us and find out if there was anything we wanted. And they were always concerned about Mandy's dignity. They supported me in helping with Mandy's personal care and made me feel involved because I wanted to do something to help.
Nursing care
"One particular memory that stays with me is during the first couple of weeks that Mandy was in the hospice. We'd asked the nurses if we could have a Chinese takeaway in the TV room on a Saturday night, which we did. My wife loved the 'Miranda' TV series, so we watched that and ate our Chinese – us and the kids and our grandchild. Mandy loved it. We did that two weekends in a row – all the family taking over the TV room!
"After that, she deteriorated but the nurses made her so comfortable. Towards the very end, when her breathing changed, the nurses reassured me that she was in no pain. Even after my wife had passed away, they told me to take my time and come and get them when I was ready so that they could prepare her.
"Mandy had hung on for 18 hours, which was distressing to listen to, but after she died and I'd left the room, the nurses washed and put fresh pyjamas on her and when I went back in she looked absolutely stunning, laid out with flowers. It looked like all the cancer had just left her body. She looked really well and that will be my lasting memory of Mandy."
Find out more about Marie Curie Hospices
Read about how Marie Curie Hospices can help you and how to get hospice care. There are also lots of ways for you to support our hospices too.