Colin Walsh – 31 December 2015
Colin Walsh is Chair of CBI Northern Ireland and founder of Crescent Capital. He has chosen to pay for a day on 31 December 2015.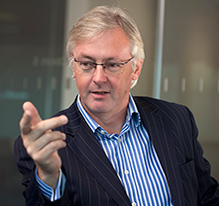 "My dad was cared for by Marie Curie Nurses so I experienced first-hand the great work that the charity does. I've supported Marie Curie since then and sit on the hospice's development board.
The hospice offers families from all over Northern Ireland access to the best possible care and support, helping them to make the most of the precious time they have left together.
CBI Northern Ireland raised funds for Pay for a Day at its 50th Anniversary Gala Dinner. I have chosen to pay for 31 December 2015, which is my dad's anniversary. I am incredibly proud to support Pay for a Day and cannot think of a better way for the money raised at the gala to be spent."