Spiritual care
Our Chaplain can offer support if you have concerns and thoughts about the bigger, deeper questions of life.
She will listen to your concerns and offer compassion, aiding in your search for inner peace and strength – but will equally respect your wishes should you prefer not to discuss such matters.
What we offer
To help meet your specific spiritual needs, our Chaplain can potentially contact religious leaders from many different faith communities. As such, if you wish to see a representative from your own faith she can try her best to arrange this for you. In addition, our Chaplain can source sacred scriptures, artefacts and devotional literature from a range of beliefs.
We have a quiet room at our hospice that our patients and their families can use for reflection, meditation or prayer.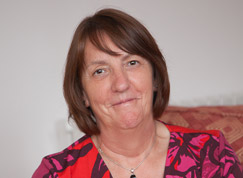 Marlene Taylor
Chaplain
T : 028 9088 2000
E : belfast.hospice@mariecurie.org.uk
I have been working at the Marie Curie Hospice, Belfast for almost seven years. I am responsible for the spiritual and religious care of patients and their families within the inpatient unit of the hospice. I also provide spiritual support for our day therapy patients. I am aided by two volunteer Chaplains.
I organise Celebration of Life events twice yearly for the benefit of bereaved families and have played an active role in a Bereavement Support Service.
I feel I make a difference by offering support and reassurance to patients and their family members during a difficult period in their lives.
Those I speak to always appreciate the interest I have for all aspects of their lives and all that is important to them. There are times when I offer a comforting presence to patients and families. I feel privileged to be alongside patients and families as they go on a trying journey.