LiviAid-Live festival
LiviAid-Live, which was held on Saturday, October 21, at Livingston Football Stadium raised a staggering £7342 and will pay for Hogmanay at Marie Curie Hospice, Edinburgh.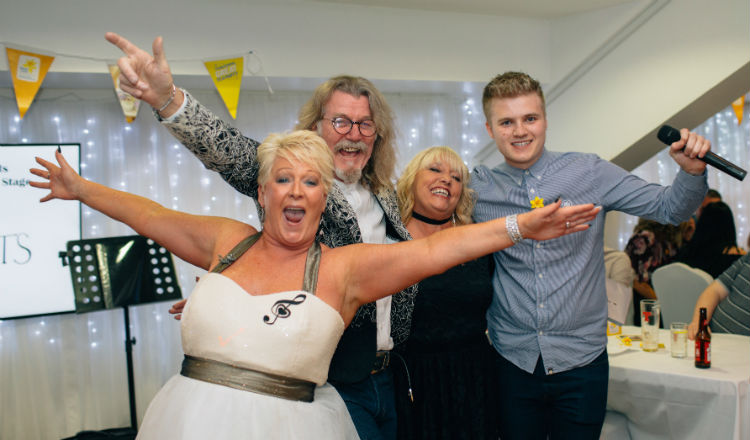 The day-long event organised by Linda Tierney, Catherine Dray, Kevin Henderson and Wullie Langdon (pictured) featured face painting, a petting zoo, creepy critters, bands, karaoke, photo booths and more.
Linda herself is no stranger to fundraising. She has thrown herself into raising money for charity following her own terminal cancer diagnosis. Linda, from Livingston, learned before Christmas 2016, that cancer discovered two years ago in her ovaries, had spread to her bowel and liver and it was likely that she would only have 10 months to live. But she is determined to live life to the full and married her partner Robert in May surrounded by friends and family.
She also backed a charity single that was her first dance at the wedding which also raised money for Marie Curie.
Linda said the LiviAid-Live event would be the first of many and thanked everyone who had made it such a success. She said: "We have now raised £7342, which isn't bad for a day's work. Initially it was going to be a couple of bands in a pub but we saw the bigger picture as we know the generosity of people. It was an amazing day and it will be back next year. Unfortunately I won't be there but the rest of the team are gearing up and that is the vision to make it a yearly event. We will also be holding other events during the year to help other good causes like the Food Bank and others – but the big event will always be for Marie Curie."
The event was sponsored by Pollock (Scotrans) Ltd, who also offered the chance to name one of their vehicles in an auction.
Fiona Bushby, community fundraiser for Marie Curie, paid tribute to Linda and the other organisers.
She said: "Saturday was an incredible day and we want to say a huge thank you to everyone who supported the first LiviAid-Live festival.
"But, especially, we would like to thank Linda, whose continued fundraising efforts for Marie Curie will ensure that more people living with a terminal illness get the care and support they need.
"Linda is a true inspiration to us all."