Hamilton Park Racecourse
Vivien Kyles, Chief Executive at Hamilton Park Racecourse, explains why her team has chosen to support the hospice on 23 September.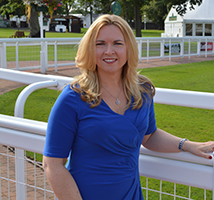 "I first got involved with Marie Curie through a friend and I joined the hospice board in September 2013. The hospice wasn't what I expected. I had thought it would be like a hospital but it's nothing like that. It's a peaceful sanctuary with lovely gardens: the sort of place everyone would want for their loved ones if they needed it.
"The patience of the Marie Curie Nurses and other hospice staff is admirable. I've had lots of conversations with the families of patients and they always talk about how they feel so supported at the hospice, that the staff and volunteers have taken the time to really get to know them.
"Paying for a day is a great way for people like me to do their bit. We can't all become nurses, and we might not have the time or inclination for sponsored challenges. But we can use our contacts and business acumen to raise money to support this wonderful hospice, and help the nurses do what really counts.
"So whether that's business colleagues, friends or community groups getting together, it's a tangible way you can help the hospice and say 'this is our day'. That's something you can be really proud of. My team has chosen to support the hospice on 23 September because this is the day we reached our fundraising target for Marie Curie. It's an important day for all of us."