Margaret and Alan Wiseman
Margaret and Alan Wiseman explain why they have chosen to support the hospice on the day of their wedding anniversary, the 6 November.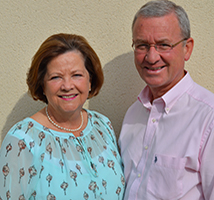 "Early in 2014, Marie Curie stepped in to help care for our Aunt Mary as she approached the end of her life. For a crucial period over two weeks, the care the nurses provided daily was incredible, both for her and the whole family. Marie Curie supported us at an extremely difficult time, and we are so thankful for all their help.
"When we first visited the hospice, we saw first-hand what a remarkable place it is. We are delighted to support Pay for a Day and have chosen 6 November 2015 in celebration of our wedding anniversary. We hope that you will join us in paying for a day, too, either personally or through your business. You'll be helping families across Glasgow at their time of greatest need."