The family of Margaret Mary Docherty
Our family is raising funds to pay for a full day's nursing care in the Marie Curie Hospice, Glasgow in memory of our mother, Margaret Mary Docherty.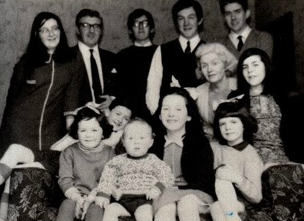 Our mother was cared for at the Marie Curie Hospice, Glasgow in January 1986. She was born on 23 June 1924, so we have chosen her birthday to honour her memory.
Mum spent her final days being so very well looked after by the amazing people who worked at the Marie Curie hospice. They were so kind and caring in Mum's last days to both her and us, allowing our large family (her husband, 9 children, their partners, siblings and other relatives) to ensure she was never alone.
The kindness we received when she died peacefully helped us a lot and will never be forgotten. We know that people continue to need this support in their last days and we wanted to help the organisation that gave us so much support, carry on providing that same level of care.
The funds for the day have been generously donated by friends and family who supported the many fundraising events the family has organised including –Sponsored Walks, Mugdock Movie Night, Ladies Day, Multi-Day Cycle in Normandy, Great Glen Way, Race Night, Quiz Night and others.
So, lots of family time raising funds for a great cause with not only Mum's children taking part but grandkids and great grandkids all celebrating her life and all aimed at supporting families across Glasgow when they need it the most.