Marie Curie Hospice, Hampstead events
The Great Daffodil Appeal
February-March 2018
The Great Daffodil Appeal raised over £7.5 million for Marie Curie in 2015. We will be attempting to turn the UK yellow by giving everyone in the country an opportunity to buy a daffodil in aid of Marie Curie in 2018.
The Great Daffodil Appeal is our flagship fundraising event and we really do need a great deal of help to deliver it. We are on track to have more Daffodil collections in our region so we have a chance to raise a lot of money with your help.
Find out more in our Great Daffodil Appeal pages.
The Blooming Great Tea Party
June 2018
Our Blooming Great Tea Party season gives everyone a great opportunity to get some friends and family together with tea and cakes!
Find out more at in our Blooming Great Tea Party pages.
---
Trek Vietnam for Hampstead and London 2019
1-10 November 2019
Take in breath-taking lake, valley and mountains views. Pass though forests and jungles.
The Vietnam trek will take you on a remarkable journey. Every step you take along the trail will make sure people with a terminal illness and their loved ones get the most from the time they have left.
Find out more about the Vietnam trek for Hampstead and London 2019.
Tour the hospice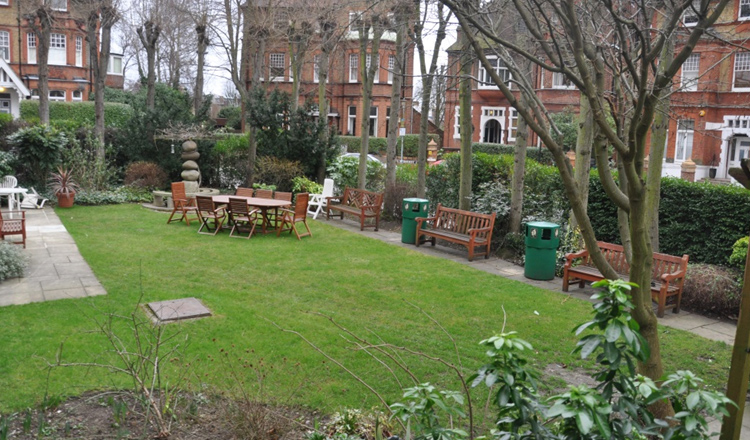 We offer tours of the hospice with the chance to ask questions about the services. This provides the opportunity to learn about the care we provide and the support we offer to individuals with a terminal illness and their families. The tours are open to clubs, associations, volunteers and supporters.
Contact the Hampstead team on 020 7853 3454 / supporthampstead@mariecurie.org.uk for more information or to book a time and date.
Volunteer meetings
Our regular meetings are a chance for volunteers to have a catch up over some tea and cake, and find out what's going on at the Hospice.
For more information contact Gemma Parker on supporthampstead@mariecurie.org.uk.
Fundraising Collections
We would love to have your support at our fundraising collections taking place across North London throughout the year. If you would like to get involved or find out more information get in touch via supporthampstead@mariecurie.org.uk or phone; 020 7853 3454.
Fundraising in aid of Marie Curie
Do you have a special skill, a fun hobby, or want to challenge yourself for charity? Why not take the opportunity to turn it into a fundraising event and help raise vital funds for the Marie Curie Hospice, Hampstead.
Your local Community Fundraiser will be on hand to provide you with fundraising support, and all the materials you will need to make your fundraising event a success.
If you would like to get involved and hold your own fundraising event, or would like some more information, please contact the fundraising team: supporthampstead@mariecurie.org.uk / 020 7853 3454