Lansons
Lansons are paying for a day on 13 December 2014, in memory of their friend and colleague, Francesca Marvell, who was cared for at the hospice.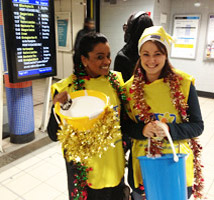 The date is a significant one, as it would have been Francesca's birthday.
The team at Lansons, a PR firm in the city, have been fundraising over the course of the year and have raised a brilliant £ 10,100.02 for the hospice so far.
They have organised a number of special events, fundraisers and staff activities, including a Christmas fair at their offices in Farringdon, donating the last hour of their staff salaries in the year collecting money at Euston station for the Great Daffodil Appeal and jumping out of a plane in a sponsored sky dive.
Clare Parsons, co-founder and chair of Lansons, said: "The hospice is a remarkable place. It means a great deal to everyone at Lansons to pay for a day's care, to help many more patients and families at their time of greatest need."