Pay for a Day
Help support people at the Marie Curie Hospice, Liverpool by paying for 24 hours of care on a day of your choice.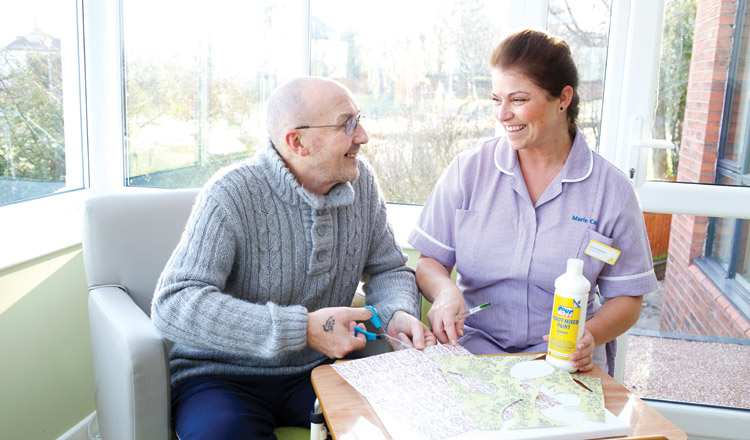 You may want to recognise an important birthday or anniversary, or mark a significant milestone for your company or staff.
Whatever your reason, we know that the day you choose will be special and meaningful to you. It will also make a real difference to people living with a terminal illness and their families. So we'll mark it in several ways:
Your hospice visit: Meet our team and see for yourself the help, compassion and care we're providing to patients and families, thanks to your support.
Your certificate: We'll create a personalised keepsake certificate, and, if you'd like, display it in reception on your chosen day.
Online: We can publish your name or the name of your organisation on the hospice homepage on the day you've chosen to pay for. And we can use social media to further publicise your support.
Why I'm paying for a day...
Inga Edwards, whose father was cared for at the Liverpool hospice, tells us why she's supporting Pay for a Day.
Inga says: "My dad died of cancer six years ago in our local Marie Curie Hospice. When you're ill and have spent time in and out of hospitals and waiting rooms, to be able to spend time at the hospice with such a caring and peaceful atmosphere makes such a difference.
"The nurses, staff and carers were really understanding and kind to my dad, and offered my family so much support. I really wanted to help in any way I could, so supporting Pay for a Day was my way of saying thank you and helping the hospice to continue its valuable work.
"I raised the money through two events – firstly by climbing Kilimanjaro and then trekking through Sri Lanka. I've raided wardrobes and cupboards for things to sell on eBay, baked over 700 cupcakes, collected in all weathers in train stations and football matches, and held competitions to name the teddy bear and raffled hampers. I even had friends bid on whether I flew a Liverpool or Everton FC flag at the summit of Kilimanjaro – Liverpool won, by the way!"