How the Newcastle hospice helped me
When Heather Dodds' husband, Alan, was diagnosed with terminal cancer, it became more difficult to manage his symptoms at home due to the aggressive nature of his illness.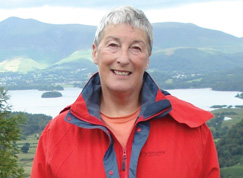 "Our attending Macmillan Nurse suggested that we meet with a doctor from the Marie Curie Hospice, Newcastle," said Heather. "When we met the doctor he introduced himself simply as 'Tim'. He suggested that it could be beneficial for Alan to attend the hospice for treatment to help relieve his symptoms."
Heather added, "After four spells in hospital since the onset of his illness neither Alan nor I were looking forward to yet another visit.
"We were desperate for help to combat the symptoms but, having never been in a hospice before, we were extremely anxious as we didn't know what to expect but we decided we had no alternative but to give it a go.
"The following morning I drove Alan to the hospice. When we arrived a member of staff was waiting to welcome us and showed us straight to Alan's room. It was large, airy, and bright with en-suite facilities and patio doors which opened out onto a veranda overlooking wonderful gardens," said Heather.
"The most profound moment for me came when Tim came in to see Alan. He knelt down so he was in Alan's line of vision and held his hand in reassurance as he discussed his treatment. This simple action spoke volumes – I knew in that moment that we had made the right decision.
"The care and dedication displayed by all the hospice staff during the last three weeks of Alan's life was so moving. Everyone from the doctors and nurses to chefs, tea ladies, administration and maintenance staff was so professional in their work and so caring and understanding," said Heather.
"The hospice was like an oasis of peace and tranquillity for our family at the most turbulent time of our lives. It made an unbearably sad and difficult situation a little easier to accept and come to terms with."