Ian Watson -29 March
Ian Watson is Chairman of Hadrian Healthcare Group and has chosen to pay for a day on 29 March - his Mum and Dad's wedding anniversary.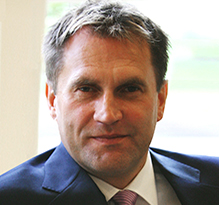 "In 2002, our family were devastated by the news that our wonderful, always fit and healthy dad had incurable cancer. Surely this only happened to other people, not us?
"Dad was living at home with Mam and we were determined it should stay that way. The family came together and we decided we would support Mam and Dad to keep life as normal as possible.
"The inevitable deterioration in Dad's condition became more rapid and the challenge of meeting his needs at home was putting a strain on everyone including Dad.
"Hospice care had been mentioned and similarly dismissed on the basis it just wasn't good enough for our dad, but then I visited the Marie Curie Hospice, Newcastle.
"I then realised this was not an institution. It was not a sad place just there to accommodate death. It was, and is, a homely, light and cheerful environment where people have the privacy and dignity respected in a caring and loving atmosphere. I knew it was the place Dad could come to enjoy his last days with his family around him and the support and love of a dedicated team of professional people – and he did.
"We have chosen to pay for 29 March, Mam and Dad's wedding anniversary, as an appropriate way of remembering them both and supporting this wonderful place. I'm sure Mam and Dad would approve!"