Marston Green Fundraising Group, 30 March 2014
The Marston Green Fundraising Group has chosen to support the hospice on 30 March 2014, Mothering Sunday.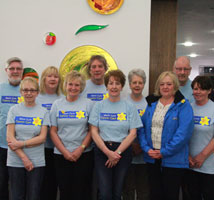 The Marston Green Marie Curie Fundraising Group is proud to be the first local community group to Pay for a Day at the West Midlands Hospice.
Formed in January 2013, they have been very successful in raising money in a variety of ways including through a quiz, a concert with supper and a Blooming Great Tea Party which last year raised over £2,500. The group have also been involved in a variety of events including a Police Charity Ball and a Birmingham All Stars Charity Football match.
The group has raised £13,260 since January 2013, and their fundraising continues with the Great Daffodil Appeal and future projects being planned:
"Much of our success has been due to the support we have had from the local community and businesses. We have been invited by Border Force at the Airport to collect air-side for a week during the Easter holiday.
"As the Hospice Big Build fundraising had been completed, we felt that it was important to be able to show how the funds we raised were being used, in a tangible way, to support the running of the Marie Curie Hospice, West Midlands. Pay for a Day seemed ideal and we thought the selection of Mothering Sunday, 30 March, as OUR day very appropriate, given how many mothers known to us had received such compassionate care and support at the Hospice."
The group is made up of Janice Allsopp, Jayne Bragg, Pauline Campbell, Carole Cox, Anita Dalton, John Elwood, Ian Fletcher, Sue Garnett, Linda Poulson, Peter and Wendy Roberts, and Ian Westwood.