Pearcelegal - 2 March
Pearcelegal has chosen to support the hospice on 2 March 2014, during the Great Daffodil Appeal.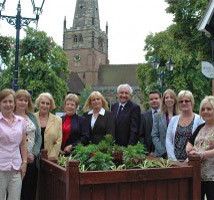 Having supported Marie Curie during the build of the new hospice, Graham Pearce, Managing Director of Pearcelegal, is keen to continue the relationship between the hospice and this Solihull-based law firm.
"Here at Pearcelegal we are delighted to be able to pay for 24 hours of care on 2 March.
"As anyone who has ever visited the hospice will know, it is a very special place. We are incredibly fortunate here in Solihull to have such wonderful care available to local families who are facing a terminal illness. It means a great deal to us to support the hospice on this day."