Ray Diver, Fiona Beet, Mark Beet - 3 August
Ray Diver, Fiona Beet and Mark Beet have chosen to support the hospice on 3 August, Fiona's parents' wedding anniversary.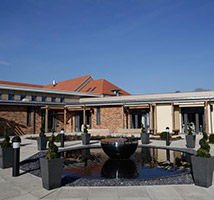 Ray's wife and Fiona's mum, Margaret Diver, visited the old Marie Curie Hospice in Solihull for day therapy sessions which included massage. Margaret looked forward to these visits as they helped her to alleviate tensions and strains and to relax, in addition to having a good chat with the nurses.
Fiona attended some of the sessions with her mum and saw that the old hospice building really was not fit for purpose. The room used for the massage was next to the kitchen so one could hear all of the cutlery and crockery being washed. In the last days of her life, Marie Curie nurses came to the family home and provided over-night support which enabled Margaret to remain at home where she died peacefully in November 2009.
Fiona commented: "On hearing that a new hospice was being built in Solihull we were determined to support it. On visiting the hospice we are delighted with the new building with its state-of-the-art facilities and dedicated staff."