Sir Adrian Cadbury - 21 June
Sir Adrian has chosen to support the hospice on 21 June, the anniversary of the official opening of the new hospice.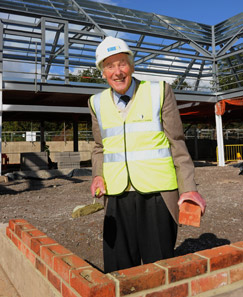 "I have every reason to be grateful for the solace that those who staffed the Warren Pearl hospice (the old Marie Curie Hospice on Warwick Road, Solihull) gave to those in need. First, they provided my wife with a short but much needed period of respite. Four years ago, my dear wife Susan died peacefully in the hospice, as she had wished.
"I was very conscious of the loving care which the hospice had offered. The devotion of the staff triumphed over the limitations of a converted and ageing building.
"The least I could do in return was to commit myself to its replacement by the best purpose-built modern building Marie Curie, drawing on its experience, could devise. We can all be proud of the new hospice and of the way in which its staff serve the needs of the Midlands. Our task now is to maintain and support it."