Solihull Fundraising Group, 5 July 2014
The Solihull Fundraising Group has chosen to support the hospice on Saturday 5 July to coincide with the new Marie Curie Charity Shop opening in Solihull.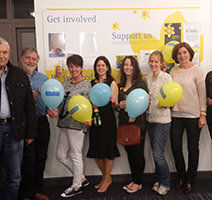 The team of ten started fundraising in April 2013 and have had great success with quite a few laughs along the way. Each member has their own story for why they want to fundraise for Marie Curie; from the great support received from Hospice and Nursing Staff who cared for loved ones at the end of their lives, to wanting to put their skills to good use and the use opportunity to meet some new people. Whatever their reasons, they all share one passion; to raise as much money as possible for the Marie Curie Hospice, West Midlands and the local Home Nursing service.
The group has so far raised an amazing £27,145.
They have supported the Great Daffodil Appeal, held a Blooming Great Tea Party, ran stalls, collectioned at local venues and organised their own events such as themed cakes sales and Ladies Nights at Moseley Cricket Club. The Bradley Ball at the Arden Hotel, which was held in memory of a group member's beloved husband, was a great fundraising success. Their most recent event saw them dressed up in Mad Hatter costumes selling a variety of cakes at the local shopping centre, Touchwood!
The group is made up of: Suzanne Hughes, Joanne Bradley, Ruth McDonald, Graham Thompson, Barbara James, Emma Cartland, Ray Bird, Angela Reid, Alix Moore and Laura Hesslington.