West Midlands Hospice Fundraising Group - 6 March
The West Midlands Hospice Fundraising Group (WMHFG) has chosen to support the hospice on 6 March 2014, on the anniversary of its most ambitious fundraiser, which took place at Hampton Manor Hotel.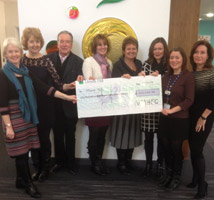 The fundraiser also featured Olympic ice dancing champions Jayne Torvill and Christopher Dean and raised over £20,000.
During the Big Build Appeal, the WMHFG worked with local residents, schools and businesses on a host of different fundraising events, most of them raising between £100 and £500. These events helped to pay for the wonderful family and visitor room we built in our Marie Curie Hospice, West Midlands.
The WMHFG's support has been overwhelming - they've hosted nearly 100 events over two years, ranging from coffee mornings to cookery lessons, vintage swimming to ladies' sailing and musical evenings to comedy nights.
Thanks to strong support for Marie Curie from within our community, the small sums WMHFG raised from these events have added up to a staggering total of £140,000.
The WMHFG is made up of Alison Elkin, Dianne Hall, Anne Lavery, Mandy Levett-Dunn, Jan Mason, Nicky Savage and Bryan Thomas, and supported by over 500 members of the Solihull community.