Nurses helped Caroline be cared for at home, as she wanted
Caroline always said she wasn't afraid to die, but she wanted to die in her own home, in her own bed.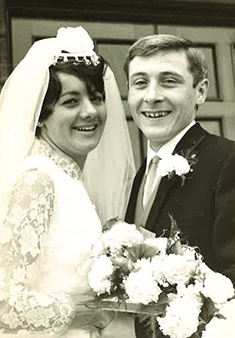 After she was diagnosed with kidney cancer at the age of 59, she spent some time in and out of hospital. She spent Christmas Day with her family, but then stated to decline rapidly – she couldn't get out of bed or walk. Her doctor recommended she be placed into hospice care.
Caroline's daughter Deborah says: "Mum was very clear about what she wanted. She wanted to be at home, in her own bed and in her own words, 'to go to sleep and not wake up'. My dad refused to allow her to go into the hospice, so the doctor called in Marie Curie."
Nurse visit
Our nurses first visited Caroline the day after her doctor referred to us. They visited twice a day to make sure she was comfortable and had been able to have a wash. They also spent time with Caroline's husband Tony to answer any questions he had and check he was coping okay.
Caroline died at home in her sleep on New Year's Eve, as she'd wanted.
"The morning Mum died, the nurses arrived within ten minutes and took care of everything," says Deborah. "They washed and changed her and laid her out. They were in no rush to leave us and said if we'd like them to stay then they would."
'Amazing' nurses
"Mum had died in her sleep, as she wanted. That would not have been possible without the Marie Curie Nurses. Amazing people. Without them, I don't think my dad would have been able to manage. Mum and Dad had been together since they were 16 – they were childhood sweethearts.
"Having Marie Curie Nurses meant that Dad could help give Mum the death she wanted and it brought comfort to him to know that he didn't have anything to reproach himself for – he hadn't let her down."
After Tony died, Deborah arranged a collection for Marie Curie in his memory, raising around £300. She says her dad never stopped being grateful to our nurses for allowing Caroline to die as she'd wished.