Nurse Sam helped Florrie and her family feel safe
Florrie often got very agitated with new people, but Marie Curie Nurse Sam made her feel immediately calm.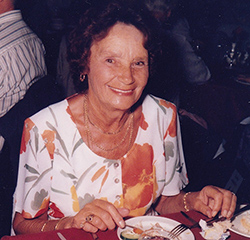 Sam started visiting Florrie a few days after she was diagnosed with leukaemia and lymphoma at the age of 84.
It was a huge shock for Florrie's family, but her daughter Wendy was grateful Marie Curie were there for them right from the start.
She says: ""From the day Mum was diagnosed, Marie Curie was there. They called me literally within a day or so, and asked if they could come over for a chat. Sam, a young male nurse, came to see us with a senior colleague, to discuss what help and support we may need. Sam also spoke to me separately, taking me through the process and the options available, such as whether Mum would stay at home or go into the hospice.
"Although it was a terrible thing to go through, it was good to have that support mechanism right from day one. As a family we'd had no experience of this, as no-one in the family had been through it before. Sam had an amazing bedside manner and delivered what was really devastating news in a very calm way."
"Mum wasn't frightened or alone"
Sam came to see Florrie every other day in the afternoon, so Wendy could go to work knowing someone was looking after her.
Wendy says: "Mum lived on her own, as our father died eight years ago. She suffered from a mild form of vascular dementia, which was diagnosed about a year previously. Thankfully, she was unaware of the horrible illness and thought the lovely people from Marie Curie were just visiting to say hello.
"She thought Sam was lovely, and would let him in when she didn't let anyone else in her house. He made her feel safe and comfortable right from the beginning and he felt like part of the family. It was so important to me that mum wasn't frightened or alone. In fact, I think the biggest thing Sam enabled us to do was to face it without feeling afraid."
As well as caring for Florrie at home, Sam arranged for the family to visit the Marie Curie Hospice, Cardiff and the Vale, so they could get to know it in case Florrie needed to go there later in her illness.
As it turned out, Florrie did go into the hospice a few weeks later, as her condition got worse. She died at the hospice, with her family around her, a few days later, just four weeks after her initial diagnosis.
Bereavement counselling
"Sam called me to offer his condolences, which was so kind," Wendy says. "The hospice also offered me and the family some bereavement counselling. I initially said I didn't need it but I'm glad I did take up their offer. We stayed with Mum while she was in the hospice and the bereavement counsellor, whose name was Sally, spent some time with me each day. I was Mum's main carer and I'd had to be strong for so long. It was great to talk to someone about it and have a good old cry.
"Marie Curie gave us a package of care – they cared for me and the family as well as Mum. Their support was second to none. I don't think we would have dealt with the situation so calmly without it."
In memory of her mother, Wendy got her trainers out and ran the Cardiff Half-Marathon to raise money for Marie Curie, raising £520 – enough to fund 26 hours of the kind of nursing care Florrie received.