Ranulph Fiennes' epic challenge
Support Ranulph in his new record-setting challenge
Ranulph Fiennes is aiming to become the first person to have crossed both polar ice caps and climbed the highest mountain on every continent.
Ranulph Fiennes has explored the farthest reaches of the globe and now he's going even further by completing the Global Reach Challenge to raise funds for Marie Curie, helping us care for more people living with a terminal illness.
The 72-year-old was forced to abandon his effort to climb Aconcagua in January, the highest peak in South America, after suffering from severe back pain. Despite the setback, Ranulph has vowed to continue his challenge.
Ranulph aims to become the first person to have crossed both polar ice caps and climbed the highest mountains on each continent. It will be the culmination of a lifetime of exploration and death-defying challenges.
We are also delighted to announce that HRH The Prince of Wales is the Royal Patron of the Global Reach Challenge. The costs of the Global Reach Challenge are being sponsored by long-term benefactor Paul Sykes and corporate sponsor TMF Group.
A world-first challenge
Ranulph has already:
crossed both polar ice caps
climbed Mount Everest in Asia
climbed Mount Kilimanjaro in Africa

climbed Mount Kosciuszko in Australasia

climbed

Mount Elbrus in Russia
Ranulph completed his next challenge in December by successfully climbing Antarctica's tallest mountain, Vinson. This January, he is heading to South America to take on Aconagua, the continent's highest mountain.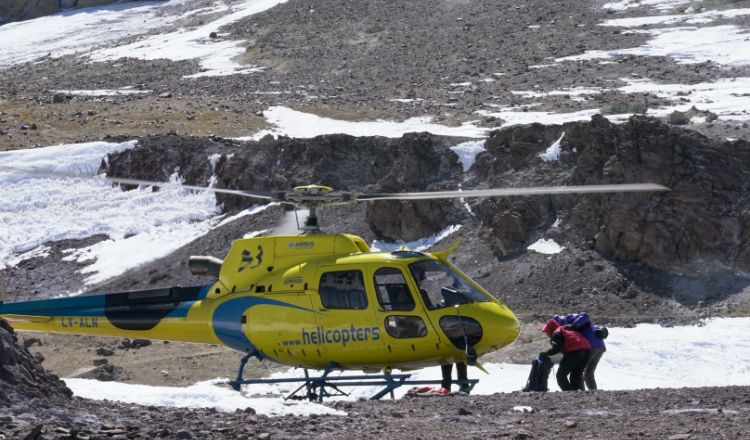 Next he needs to climb:
Mount Elbrus in Europe – COMPLETED JULY 2016!
Mount Vinson in Antarctica - COMPLETED DECEMBER 2016!
Aconcagua in South America - abandoned through injury January 2017
Denali in North America – one of the world's most difficult and dangerous mountains to climb
After being forced to turn back from climbing Denali in May this year after suffering from chronic back pain, this final mountain will be the toughest final test possible.
The combined height of all five of these mountains is the equivalent of climbing to the top of the Shard 93 times, or twice as high as the cruising altitude of an A380 jet!
What Ranulph will face
Ranulph will face extreme temperatures, unpredictable weather, altitude sickness and the risk of accidents.
On top of that, he's also lost half of each of the fingers and thumb on his left hand, meaning he's unable to properly hold a standard ice axe. He has also suffered two heart attacks, undergone a double heart bypass, a cancer operation and is in a constant fight with diabetes.
Why he's doing the challenge
Ranulph told us, "I feel compelled to keep setting myself these challenges to raise money for Marie Curie. Since the death of my first wife Ginny, I've wanted to raise money to help Marie Curie Nurses care for people living with any terminal illness, and their families.
"Climbing five further mountains in a short space of time is going to be a definite challenge, especially climbing Denali in Alaska which only had an 18% success rate during this year's season. But if it raises money for Marie Curie then I would really like to have a go."
Donate to Ranulph's Global Reach Challenge to help Marie Curie reach more people living with a terminal illness.
More about Ranulph Fiennes, his life and challenges