Chocolate strawberries and unforgettable care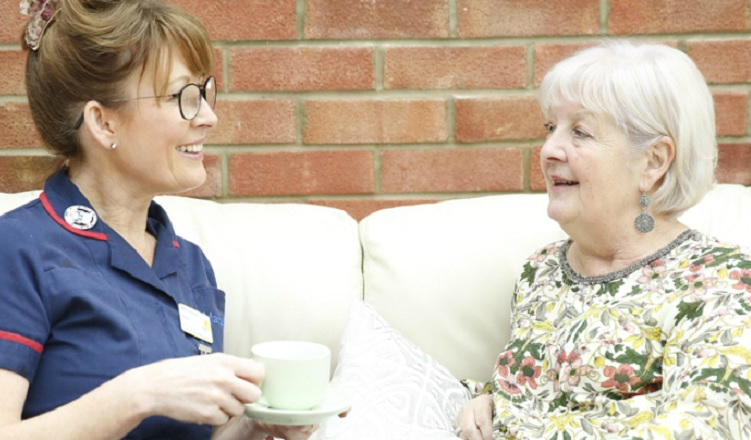 Last year, Maureen threw a Blooming Great Tea Party for the first time – and she's already got a date in the diary for this year! Inspired to host a tea party in memory of her sister Pat, Maureen never forgot the loving care a Marie Curie Nurse gave to her Pat at the end of her sister's life.
From a popular prize draw to employing a hopping soundtrack, Maureen used lots of different ways to make her tea party extra special.
"I threw a Blooming Great Tea Party last year because I wanted to help Marie Curie Nurses keep providing the amazing care they did for my sister, Pat. There are no words to describe the care our Marie Curie Nurse gave Pat and the support she offered to the family. She was just fantastic, and so loving.
Drinks, cakes and gifts – oh my!
"I wanted to do something different so we had our Blooming Great Tea Party in the garden. We charged people £20 each which included drinks, cakes and a gift. We bought some of the cakes and made some – I did chocolate strawberries, which went down really well.
"One fun thing we did was when guests arrived and paid their donation, we gave everyone a raffle ticket too. Later on in the afternoon, our guests went up to the raffle table and picked up the prize that matched their ticket.
Raising some dough
"Everyone really loved it and every guest went home with something. We also had some great prizes donated, which we raffled later on to raise more money. We had a big bouquet of flowers donated by a florist, and a wine decanter with six glasses. The main prize was a Jamie Oliver meal – lunch for two people donated by the restaurant.
"It wasn't difficult to organise our tea party. I wanted to make it fun, so I had music on and everyone was talking, having a laugh and enjoying the atmosphere. We all had a bit of a boogie later on. It was a really, really good day.
"It was absolutely great and I can't wait for our tea party this year!
Why cakes and cuppas are so important
"In my life, I've been touched by some very beautiful people. Our Marie Curie Nurse was one of them.
"When Pat was being cared for by the nurse, I remember her holding my sister's hand as the nurse spoke gently to her, saying: 'You've got all your family round you. It's ok to let go.' My sister was smiling at us. I think she felt safe."
It's a piece of cake!
Join us this summer and throw a Blooming Great Tea Party for Marie Curie.
It's easy, fun, and every cake and cuppa will help us care for more people living with a terminal illness.
Get your free fundraising pack
Here's all the info and inspiration you need for a top tea party