Sour cream banoffee cake
Enjoy the official recipe for this year's Blooming Great Tea Party. This delicious sour cream banoffee cake is sure to go down a storm at your own tea party.
Ingredients for the cake
100g light brown sugar
250g unsalted butter
200g caster sugar
300g of peeled bananas (approximately two very large or three large bananas)
Four large eggs
50ml sour cream
300g self raising flour
A pinch of salt
397g tin of caramel
Ingredients for the frosting
100ml sour cream
350g icing sugar
60g butter
Two Flake bars to decorate
You will need two 20cm deep cake tins
Method for the cake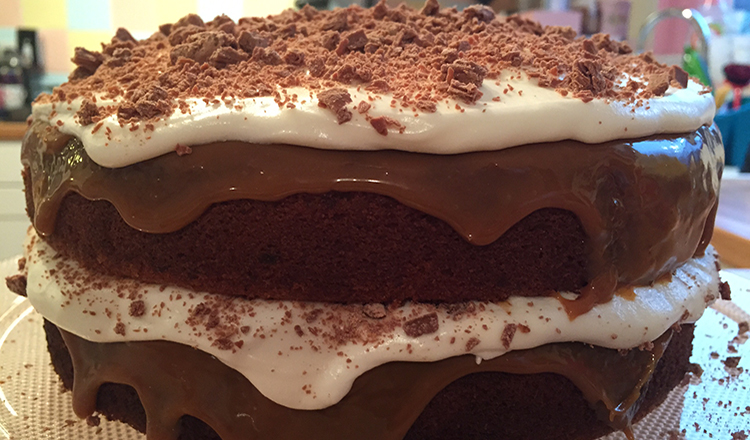 1. Preheat your oven to 180C (gas mark 4) and grease and line your sandwich tins with baking parchment.
2. Heat the light brown sugar and butter for 20 seconds in the microwave, remove and, using an electric mixer, beat in the caster sugar.
3. Mash the bananas, and add to the sugar and butter mixture. Beat in the eggs, one by one, making sure each egg is fully incorporated.
4. Add in half the flour, the salt and half of the sour cream. Mix until everything comes together.
5. Add in the remaining flour and sour cream and mix again until you have a thick batter.
6. Divide the mixture equally between the two sandwich tins and bake for 25-30 minutes, until the tops are springy and golden brown.
7. Allow the cakes to cool for 10 minutes before removing them from the tins and putting them on a wire rack.
8. Use a toothpick or piece of dry spaghetti to poke holes over the top of each cake.
9. Empty the tin of caramel into a bowl and stir with a spoon to loosen it. Pour half of it over one cake and half over the other. Spread the caramel over the top of each cake and don't worry if it drips down the sides.
10. Leave the cakes to cool completely before frosting.
Method for the frosting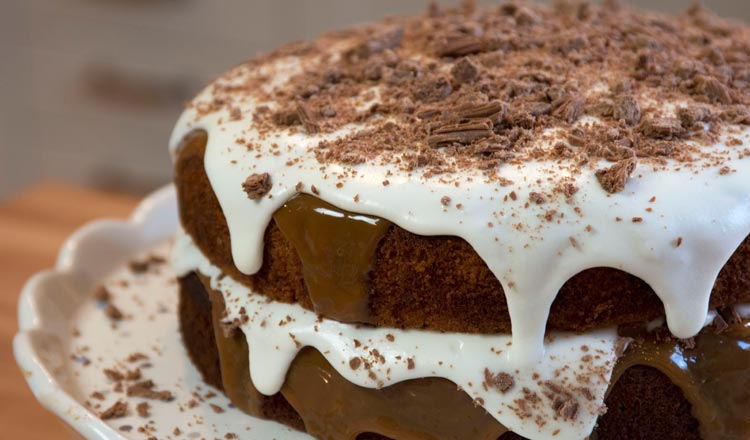 1. Sift the icing sugar into a bowl with the sour cream and butter.
2. Using a hand-held or free-standing mixer, beat the frosting ingredients together for five minutes until you have a thick, white, glossy frosting.
3. Spoon half of the frosting onto the top of the bottom layer and carefully spread it across, taking care not to move the caramel.
4. Crumble one of the Flake bars over the frosted cake. Carefully place the top layer over it and push down slightly.
5. Spoon the remaining half of the frosting carefully over the top cake. Crumble the remaining Flake bar and sprinkle it all over the top.