Celebrating over half a century of service
This year, Marie Curie Nurse Florence Cameron retired from nursing after an incredible 52 years of service.
Florence, who recently celebrated her 70th birthday, started nursing when she was just 18.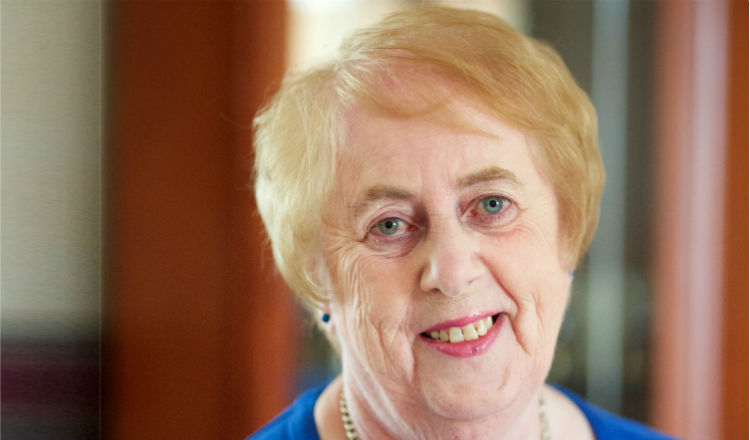 "I went straight into nursing from school, and then became a sister at the Royal Victoria Hospital in Belfast," she says. "It was the beginning of the Troubles in Northern Ireland, so I saw some terrible injuries. It was certainly challenging, but I learnt a lot."
"I always wanted to be a nurse. I think that's why I was called Florence!"
Florence subsequently joined the Queen Alexandra's Royal Army Nursing Corps, and worked in military hospitals in London and then Germany, during the Cold War.
"It was quite an experience working in Berlin. We couldn't ever go to the East unaccompanied, and I remember it being terribly sad at times. When you went near the wall, you could see people looking through the holes on either side – perhaps they were looking for their relatives."
After nursing across Europe, Florence returned to the UK where, some years later, she found her true calling as a Marie Curie Nurse.
Throughout her life, Florence has been passionate about helping people living with a terminal illness. When she was a district nurse, she worked extra night shifts for Marie Curie at the weekend and, in 2006, became a Marie Curie Nurse full time.
"I felt I had a lot to give, and wanted to use my skills to do something that I enjoyed. Of course, it can be very sad, and 'enjoy' may seem like a strange word to use, but it is so satisfying to be able to help someone in their darkest hour.
"There are some truly uplifting and rewarding moments when you are caring for people at the end of their life."
"Being able to grant somebody their wish to stay at home is so very important. That's why Marie Curie is special."
After years of working on hospital wards, Florence enjoyed having more time for her patients and their families. She was a Marie Curie Nurse for over ten years.
"As a Marie Curie Nurse, you can spend a lot of time with the patient because it's one-to-one nursing.
"There were times when I would sit up all night talking with my patient. Once they knew me, they would open up and talk about their fears. It helps to be a good listener as a Marie Curie Nurse.
"Whenever I arrived at a patient's house, there was always such a sense of relief in the family. They knew that someone they trusted would be there to care for their loved one, giving them a chance to rest and get a good night's sleep, or if it was during the day, to pop out and run some errands."
For Florence, helping people spend their final days in familiar surroundings with their loved ones around them has been a lifelong passion. But, she simply couldn't have been there for her patients without supporters like you.
"I could really get to know my patients and their relatives - they would often treat me like I was part of the family."
Florence is a loyal Marie Curie supporter herself. In the 1980s, she started a local Fundraising Group with three of her friends – a group that ran for 25 years.
"We did a range of things," she explains. "We hired a shop in the centre of town and collected things from our friends to sell, and we'd have bake sales or host cheese and wine parties. It was great fun."
Now, after an amazing 52 years of service, Florence has retired from nursing. But even so, she's already thinking about what she'll do next.
"In the future, I may join the Marie Curie Helper Service as a volunteer.
"Marie Curie is such a worthwhile cause that does wonderful work for patients and their families, and I want to do all I can to make sure it can continue."