"It feels like being at home in my own garden"
Ann was cared for at the Marie Curie Hospice, Edinburgh at the end of her life. We were able to talk to Ann and her daughters about the care she was receiving and the support they were all offered.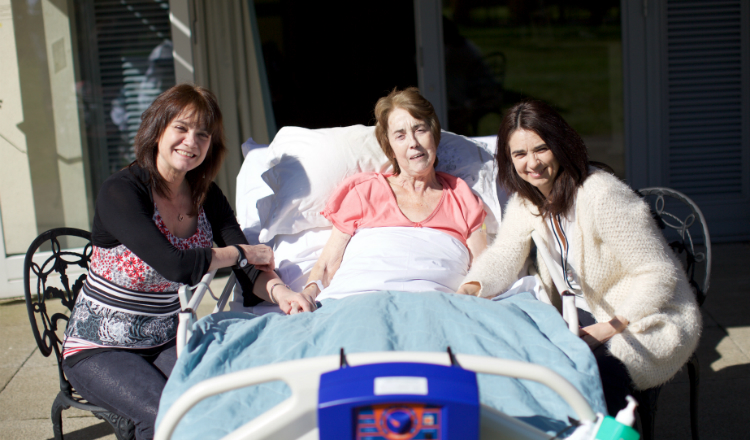 "The staff are absolutely fabulous, I couldn't fault them – they're wonderful. They come straight away and help when I need them. There's no wait compared with the hospital," said Ann.
She also enjoyed various therapies – including hand, head and feet massages – during her time at the hospice. "The chef is just great too; when I didn't fancy certain food they made what I wanted whether that was sometimes just beans on toast or an omelette."
Watching the sun and snow
Ann's three daughters, Katherine, Paula and Alison, visited regularly in her final weeks. They told us that they'd made good use of the complementary therapies available at the hospice, including massages and clinical reflexology, and received bereavement counselling.
"The Marie Curie staff were wonderful with Mum and we were very grateful that she was in a beautiful room for her final days. Everyone was very kind to us, offering up accommodation so that we could stay and support Mum at the end," Paula told us.
When we talked to Ann, she had been enjoying some time outdoors after staff arranged to have her bed wheeled outside. "It's my first time being out. The fresh air and seeing the birds… it feels like being at home in my own garden. It was lovely a minute ago – it was actually snowing. I never thought I'd be in bed watching the snow and the sun beating down," she said.