Delivering our nursing services with local hospices to provide co-ordinated care
We work in partnership with independent hospices across the UK, to help people living with a terminal illness and their families get the right kind of care and support, where and when they need it.
Our service partnerships with independent hospices are extremely important for pooling resources between different organisations to make sure people get seamless care and support.
Local hospices have extensive knowledge of what support people in their area need and are trusted, integral parts of their community.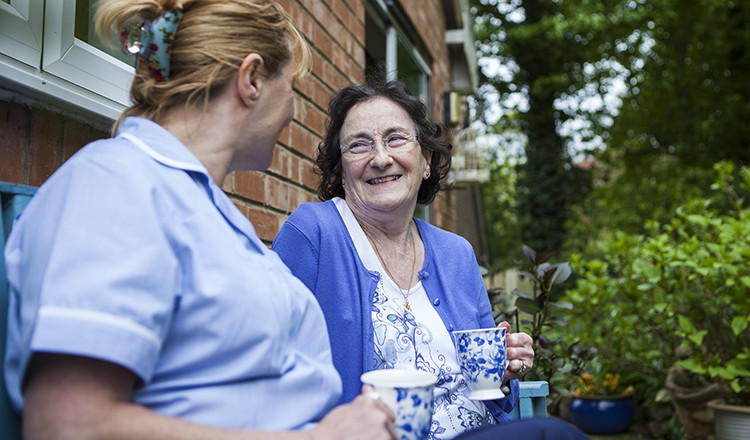 Joining up local resources
In the north-west, we're working with Springhill Hospice, the lead provider of services for people with end of life care needs in the area, to provide our nursing care in Heywood, Middleton and Rochdale. The hospice is responsible for co-ordinating the appropriate care for people it looks after, both at the hospice itself, and in the community.
People with a terminal illness have a single point of access to different services, including Marie Curie Nurses, through the hospice, meaning we can make the best use of local resources and make sure people get the right care at the right time. Best of all, this service is supporting many more people to be cared for in the place they want to be, whether that's at home or in the hospice.
24-hour care and support at home
Many of our hospice partnerships focus on making sure people can get 24-hour care at home. We know that 24-hour support is essential for patients and their families, giving them a great deal of reassurance particularly after-hours, at weekends and on bank holidays. Without this kind of support, people are more likely to end up in hospital when they need help and don't know where to turn to – often through stressful and unnecessary A&E admissions.
To address these issues, we've been partnering with Overgate Hospice and Calderdale and Huddersfield NHS Foundation Trust to provide an integrated end of life care service. As it's usually more difficult to get urgent care out of hours, we worked with the foundation trust and the hospice to offer nursing care in people's homes, from 8pm to 5am, seven days a week. If people experience a sudden change in their condition or need pain relief urgently, they're now able to get advice over the phone or a visit from one of our nurses for hands-on care. Local GPs, district nurses and care home staff also now have access to expert support and advice that's provided by Overgate Hospice's educator specialising in palliative and end of life care.
Co-ordinated care from a single point of access
For the past three years, we've been collaborating with St John's Hospice to offer a similar integrated service in North Lancashire. By working together, we're able to provide a 24-hour service through St John's Hospice's hospice at home team that's available from 7am to 10pm, and our nursing team that offers urgent care from 10pm to 7am. Both teams are based at the hospice and the service is co-ordinated by the hospice at home hub. Patients registered with the service also have 24/7 access to a support line based at the hospice hub so that they, or their family member, can ring at any time if they need emotional support or advice.
Most recently, we've expanded our nursing service in South Yorkshire by partnering with Rotherham Hospice. This service is another example of how a 24-hour service that integrates care offered by different providers could be successfully provided. As Rotherham Hospice already offers an excellent hospice at home service, we've now increased the provision of our overnight nursing hours so more round-the-clock care is available to people in their homes. Just this week, our nursing team started providing urgent care from 10pm to 8am, when responsive support is most needed. And like some of our other hospice partnerships, Rotherham Hospice is also providing vital co-ordination support to make sure people are getting the care they need at home.
Partnering for the benefit of all
With many different service providers often involved in someone's care towards the end of their life, it's really important those providers work together so that services are delivered seamlessly across community, hospice and hospital settings.
These partnerships show that, by working together, we can combine expertise, resources and local knowledge to provide the best possible care for people with a terminal illness and their families.
Marie Curie took part in the Hospice UK Annual Conference between 10 and 12 November. Read more about our nursing services and how we work with others.