How do we bring hospice-standard care into hospitals?
Even though most people in the UK would prefer to die at home, around half still die in hospital. So how do we make sure hospitals are providing the right care for people who die there?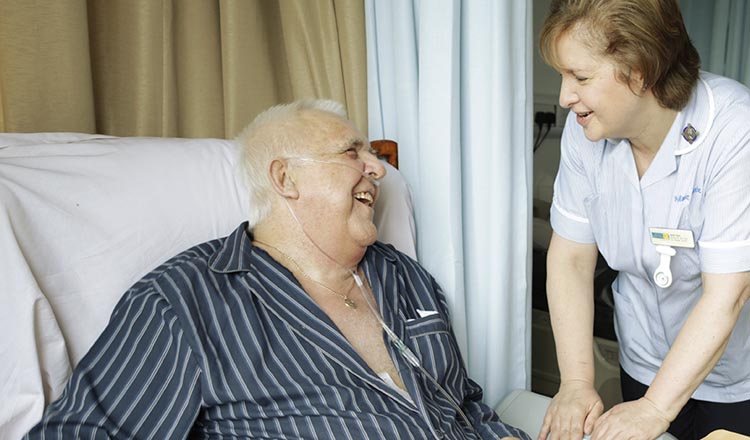 Most people in the UK would prefer to die at home. One of the benefits of having a Marie Curie Nurse is that it makes it easier for people with a terminal illness to be cared for, and die, in their own homes.
But the reality is that around half the people who die in the UK each year still die in hospital. Often there's no medical reason why those people need to be hospitalised – but the arrangements needed for them to be cared for at home often simply aren't there due to lack of funding.
We're campaigning hard to make sure governments across the UK properly fund social care so that people can get out of hospital at the end of their life. But this is a long-term ambition – and of course there are some people who prefer to be cared for in hospital.
Quality standards
So, alongside our efforts to make sure people have the choice to die at home or in a hospice, we need to make hospitals better places for the people who do die there.
Because at present there is a marked difference in the level of care people say they get at the end of their lives.
Only one in three hospitals meet the NICE quality standard of offering face-to-face access to specialist palliative care seven days a week, from 9am-5pm, according to this year's End of Life Care Audit . And only 11% offered 24/7 access. There is only one specialist palliative care consultant per 1,000 beds.
Excellent care
In 2015's National Survey of Bereaved People , 60% of respondents said hospital doctors in England always treated their loved one with respect, compared to 87% for hospice doctors; 54% said hospital nurses treated them with respect, compared to 86% of hospice nurses.
This is not because hospital staff don't want to deliver care the equal or better of what is available in hospices, but the systems, processes and pressures make that much harder to achieve in hospitals.
There are pockets of excellence, of course; but the system as a whole seems to struggle to deliver some of the core parts of person-centred care that we would consider crucial: co-ordination, dignity and respect, and care personalised to an individual's needs.
Palliative care initiatives
So how do we work with hospitals to rethink how they deliver end of life care?
At Marie Curie, we have some great examples of how we're doing exactly that. Through our Companions programme at Musgrove Park Hospital, we're putting trained volunteers in place to provide the emotional support to dying patients, and their families, that busy hospital staff often lack the dedicated time to give them.
And in Northumbria, we have a team of clinical nurse specialists and Marie Curie Nurses working hand in glove with hospital palliative care consultants, offering expert support and advice, and assisting with discharges if a patient wants to go home.
Best practice
Initiatives like these are making a difference. But currently, while NHS England has put overall principles around palliative care in place that hospitals should work to, it does not mandate particular ways of working or approaches.
We know why that's the case: the Liverpool Care Pathway, which was the largest attempt to transfer the principles of hospice care to a hospital setting, became a damaging check-list exercise in many hospitals – the opposite of good, person-centred care.
So the theory is that hospitals will share best practice and work with partners to develop approaches to work for them and meet the principles laid down by the government.
Postcode lottery
It's a good theory – but our experience at Marie Curie has been that, while in some areas the door is open to partnerships, new approaches and improvements, in others it isn't. Beyond a poor CQC rating, there's no compulsion for poor performers in this area to change their approach.
Such a hands-off approach from the government and NHS England means that there is serious potential for geographic inequity – a postcode lottery for palliative care. If poor performers aren't challenged to improve, there will be parts of the country that will experience poor care at the end of their lives.
The hospice sector has many of the solutions hospitals need – together we can drive forward change and make sure people across the UK get the right level of care, regardless of where they're being cared for.
Read more about how we're rethinking end of life care in hospitals