Marie Curie Hospice, Edinburgh events
Here at Marie Curie Hospice, Edinburgh, we organise group events to raise money for our hospice care. These events are fantastic opportunities to discover and explore new places, meet and make new friends, all the while raising money to support Marie Curie and our nurses in your area.
The Great Daffodil Appeal
February-March 2018
The Great Daffodil Appeal raised over £7.5 million for Marie Curie in 2015. We will be attempting to turn the UK yellow by giving everyone in the country an opportunity to buy a daffodil in aid of Marie Curie in 2018.
The Great Daffodil Appeal is our flagship fundraising event and we really do need a great deal of help to deliver it. We are on track to have more Daffodil collections in our region so we have a chance to raise a lot of money with your help.
Find out more in our Great Daffodil Appeal pages.
The Blooming Great Tea Party
June 2018
Our Blooming Great Tea Party season gives everyone a great opportunity to get some friends and family together with tea and cakes!
Find out more at in our Blooming Great Tea Party pages.
---
South Africa Trek for Marie Curie in Scotland 2019
21-29 September 2019
On this stunning trek, you'll see the grasslands, woodland and valleys of the Royal Natal National Park. You'll pass stunning waterfalls, gorges woodland, and learn about Bushmen art. Finally, you'll climb to 2,950m at the top of the Drakensberg Mountains.
Challenge yourself on once-in-a-lifetime adventure and raise vital funds for Marie Curie services in Scotland.
Find out more about the South Africa Trek for Marie Curie in Scotland 2019.
---
Step Inside

We offer a short presentation, a tour and a Q&A session over refreshments for clubs, groups or associations. Learn about the care we provide as well as the contribution hospice services make to support the quality of life for people with a terminal illnesses in the local area and across the Lothians.
Contact Fiona on 0131 470 2290 for more information or to book a time and date.
---
Plant a tree for Marie Curie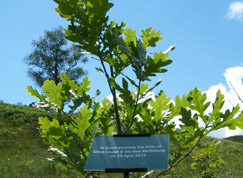 Marie Curie is delighted to announce a unique fundraising partnership with Trees4Scotland . For every tree planted, Trees4Scotland will make a 20% donation to the Marie Curie Hospice, Edinburgh.
Plant your tree for as little as £15 - this also includes a planting certificate. The trees will be planted in Teaghlach Wood which is located near the village of Comrie in Scotland's central Highlands. Visit www.trees4scotland.com and use the special promotional code MARIE CURIE to plant your tree.

Find out more about our events on our Facebook page .