Spiritual care
Our Chaplain can offer support if you have concerns and thoughts about the bigger, deeper questions of life – but will equally respect your wishes should you prefer not to discuss such matters.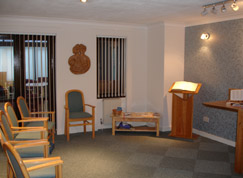 She will listen to your concerns and offer compassion, aiding in your search for inner peace and strength.
To help meet your specific spiritual needs, our Chaplain can potentially contact religious leaders from many different faith communities. As such, if you wish to see a representative from your own faith she can try her best to arrange this for you. In addition, our Chaplain can source sacred scriptures, artefacts and devotional literature from a range of beliefs.
We have a quiet room at our hospice that our patients and their families can use for reflection, meditation or prayer.
Meet our Chaplain, Ruth Pryce
I have worked for Marie Curie for about 22 years. I spent 18 of those years as a trained nurse at the Marie Curie Hospice, Liverpool. About four years ago I chose to embark upon the challenge of leading the spiritual team as Chaplain.
I talk to the patients about their fears and concerns as this can make them feel more at peace. I try to give them some hope. This may mean giving them something to look forward to. For example, I have helped arrange wedding blessings and organised a limousine to take someone out for their birthday.
I often take patients for a walk around our gardens, where I find they love being out in the fresh air and do talk more to me. Sometimes I have to think outside the box - on one occasion I organised the European Cup to be brought in for a young Liverpool supporter. His family said it was a day they would never forget.