"My job isn't depressing; it's the best job in the world"
Marie Curie Nurse Lauren James (pictured below on the right) explains why she loves working at our hospice in Cardiff and the Vale. Like all our nurses, she helps make every day count for people living with a terminal illness.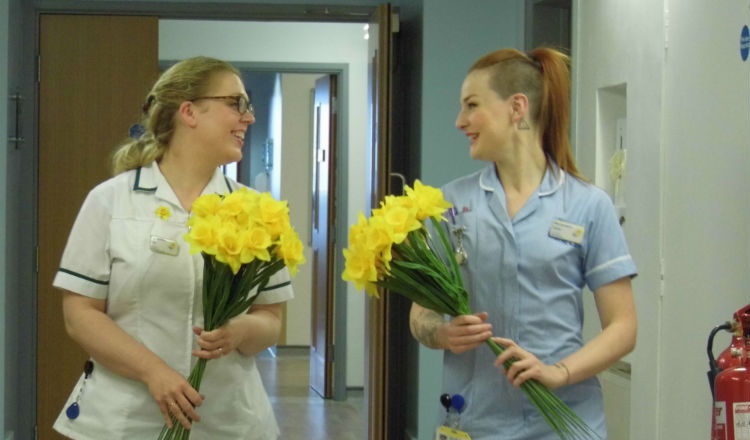 "Many people think of the word hospice and attach a lot of negativity to it. People always ask me how I manage to do my job. They ask if it makes me sad or even depressed to look after people who are dying.
I've never viewed my job like that at all.
There are very sad and sometimes heart-breaking moments at the hospice, but the job isn't depressing and the hospice generally isn't a sad place to be.
The staff are all lovely, warm and friendly. We go out of our way to welcome people into our care and we take massive pride in what we do and where we work. We spend time trying to create a happy environment, where patients and relatives feel safe and supported.
We laugh with our patients and their loved ones. We give them hugs when they need it and make them numerous cups of tea.
We listen to their problems and sometimes we sit with them when they cry.
What I am trying to say is I would like people to know that the hospice is not a sad place and hospice does not necessarily mean the end. Hospice can mean healing and support. It can mean laughter, joy, making the most out of the time people have left.
My job isn't depressing; it's the best job in the world. I get to facilitate "good" deaths and give people relief from symptoms that may have been making their disease unbearable.
I've worked in lots of different places and I have seen some pretty awful deaths – people not dying in the way that they deserve. If people die at the hospice, it is comfortable and pain free, in quiet, clean surroundings with good support for their loved ones.
That's why I love my job – I can't imagine doing anything else."
---
Read more about Marie Curie Hospices and how we help people achieve the best possible quality of life.