An important week for end of life care
This week the government has committed to making sure everyone in England has access to high-quality end of life care, seven days a week, by 2020.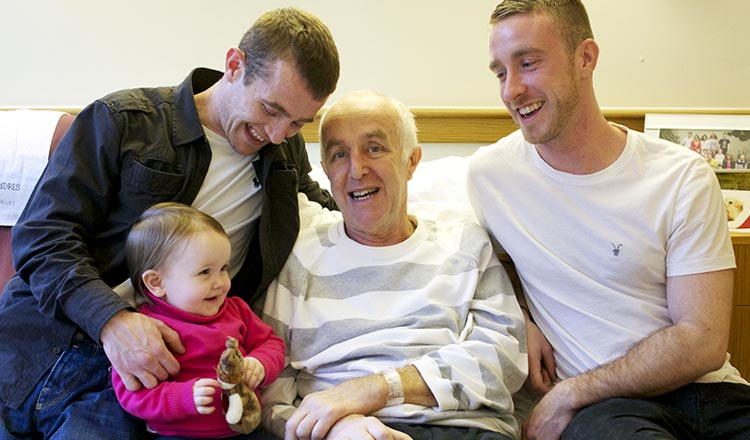 It's a highly ambitious pledge to address the wide variation in the quality of care people get at the end of their lives. If successfully delivered, it will put in place a raft of measures to improve the quality of care people receive in different settings, including care homes and hospitals.
These commitments come in response to the recommendations put forward in last year's Review of Choice in End of Life Care . The independent review board included representatives from across the palliative and end of life care sector, including from Marie Curie.
Patient voices
Crucially, it also included people with direct experience of using end of life care services – including Helen Findlay, a member of Marie Curie's own Expert Voices Group. Helen's father James, who had motor neurone disease, died without the personalised, high-quality care and support we believe is everyone's right at the end of their life.
Helen, and the many thousands of people with similar stories to tell, are exactly who the government should be listening to when considering how to improve end of life care.
We therefore welcome the fact that the government has broadly accepted the review's recommendations and that the case for urgent change in how we care for people at the end of their life is now clearly understood and endorsed.
Prioritised end of life care
In its response to the review, the government has identified the actions it will need to take to support and implement its commitments.
For me, the stand-out points were the government's pledge to prioritise end of life care and have it at the very top of the NHS agenda; measure what works and how it impacts on individuals and their families; and ensure all areas of the NHS consider end of life care as an important and integral part of what they do.
For the first time, the government and NHS England will develop and implement a way to effectively measure how well clinical commissioning groups (CCG) are preforming on the important issues of both quality and patient experience at end of life. With the ambitious aim of introducing these new measures by June 2018, these measures will provide comprehensive information on performance at CCG level so that we can track progress and variation around the country.
Quality and choice
Learning from people's experiences of the care they get is vital to ensuring that services are good and meeting people's need. Without this, we will never be able to measure what works and what makes a difference to the care and experiences of people with terminal illness and those important to them.
It will also help shine a light on areas where people may not be getting the high-quality care and support the government has committed to delivering. Currently, this is not clearly and consistently tracked or measured, making remedial action difficult to take.
Another welcome step is NHS England's commitment to ensuring that all current and future initiatives designed to transform care must consider how they can contribute towards improving quality and choice at the end of life as well. This work will ensure end of life care remains an NHS priority in the future, and ultimately addresses the variation in care that exists across the country.
Training of professionals is also covered and it will be interesting to see how Health Education England respond to the challenge, as we know this is a major factor in ensuring people get high-quality palliative care, whether they are being cared for in hospital or in the community.
What happens next?
This is a good result for all of us who have been calling for the government to take action on palliative and end of life care. The case for urgent change has been made. The argument for vital improvements has been won. But the hard work starts now.
We must recognise that this is an ambitious set of commitments, particularly without additional funding, although Health Minister Ben Gummer has said the government should be judged on results.
But the reality is that neither the government nor NHS England can deliver these improvements alone. We in the voluntary sector have a major role to play, as the government acknowledges in its response.
So our commitment, to our supporters and partners, is that we will continue to do everything in our power to make sure everyone gets the high-quality care and support they need at the end of their lives.
We will continue to explore more effective, efficient ways of delivering care. And we will work even harder, with the government, NHS and other partners, to play our part in delivering change for people living with a terminal illness and their families.