Cycling trip of a lifetime with Marie Curie
If you'd rather be on your bike than anything else, you'll be wanting to go on one of our cycle tours. Whether you like riding at home or abroad, we've something that's right up your street.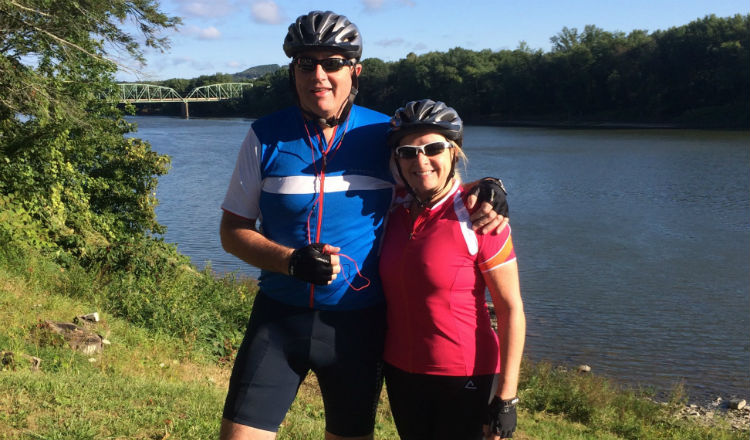 As part of Team Marie Curie, you could be in the middle of the Nicaraguan jungle or flying full from London to Paris to watch the finale of the Tour de France. Join Team Marie Curie and find your next cycling adventure and help our nurses provide care and support for more people living with a terminal illness.
Ray Evans took part in the 2014 London to Paris cycle challenge in memory of his wife June who was cared for at the Liverpool Marie Curie hospice. Ray now tirelessly fundraisers for the Liverpool hospice and the work of his local Marie Curie nurses through collections, cycling and collection sponsorship. London to Paris was a special challenge for Ray as it was his 10th overseas cycle for Marie Curie. Ray has braved all conditions over the years from blazing heat in Cambodia to torrential rain storms in the U.S all whilst raising vital funds for the cause closest to his heart.
Despite over ten years of challenges, Ray's still not ready to hang up his cycling shorts and he's currently fundraising and training for his next overseas bike ride for Marie Curie!
Our toughest cycling challenges
If the Flying Helmets have inspired you, find your own cycling challenge of a lifetime and help raise vital funds for Marie Curie.
21 - 25 July 2016: Our London to Paris cycling event is a spectacular challenge covering England and France, 300km. At the finale, you'll arrive just in time for the Tour de France finale.
11-18 Feb 2017: or, if you want to go all out and go a little further from home, we've got the Nicaragua to Costa Rica cycle. You'll ride along some of the most beautiful scenery in Central America, spying smoking volcanoes, pristine beaches and incredible national parks.
If none of these are right for you, we have a whole host of other cycle challenges for you to choose from.