Now that's what I call a dinner party playlist
The skies had opened and the rain was pouring on the day of our Dinner Down Memory Lane – but that didn't stop us having a great time and enjoying our super 70s soundtrack.
Warm and cosy in our private room at the Disappearing Dining Club's amazing retro-style restaurant, 'Back in Five Minutes', we got to work setting up for our guests' arrival.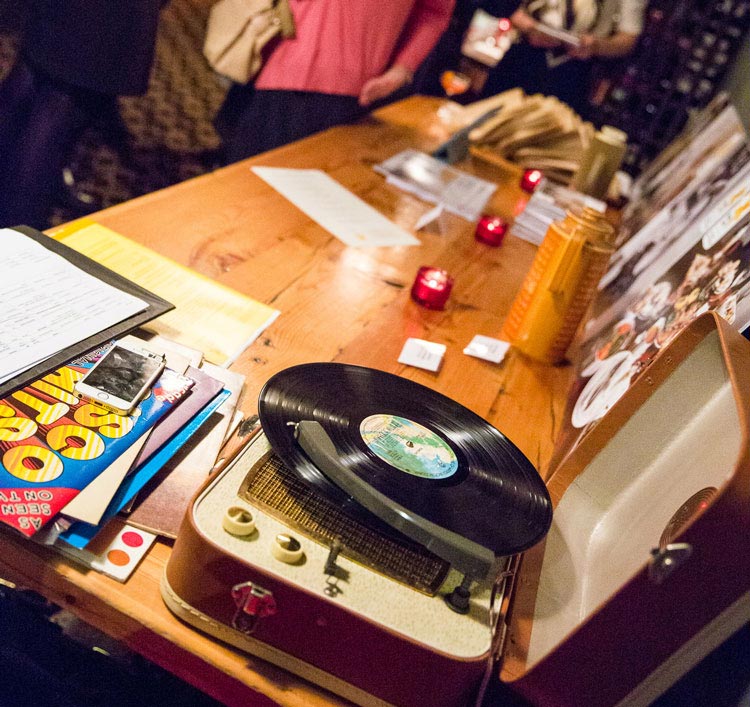 70s style setup
We started by making sure we had the perfect 70s soundtrack to welcome our guests and get everyone in the party mood. We felt it was only right that we played our opening numbers on a vintage record player, with the likes of Fleetwood Mac, Diana Ross, and Now That's What I Call 70's! giving our dinner party the perfect atmosphere.
The room was already decked out to the nines with retro furnishings, so we started dressing the tables with the special Dinner Down Memory Lane place cards. Everyone was chatting about our favourite retro dishes, what our mums used to make us, and the guilty pleasures we still enjoy today (chicken dippers and baked beans, anyone?).
Retro classics
During the dinner we had 70s cocktails – 'A Dirty Shirley' (a Shirley Temple with a twist) – and enjoyed dishes that were great twists on classic recipes like Vietnamese-style prawn cocktail, French onion soup, and cheesecake.
All the 70s touches we made to our Dinner Down Memory Lane were simple but so much fun, and everyone had a fabulously-retro evening. I think that's the key to having a really great dinner party – bring your friends together, revisit some musical and culinary classics, and have a good time.